/
Free calls to United Arab Emirates
Free calls to United Arab Emirates
Please wait while we are checking whether your call can be connected.
The showcasing procedure of free calls has gained a large number of individuals' trust. Individuals are depending more on internet telephone benefit for making free international calls using free web calling app. The upside of free calls to United Arab Emirates help number of individuals in their everyday correspondence.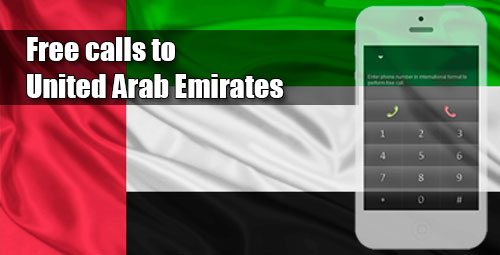 This cash sparing advantage gives individuals a chance to stay in contact with loved ones without spending much. Moreover, the client can benefit free calls as well as utilize number of offices other than calling also. The propelled features of VoIP innovation enables client to send online instant messages by methods for moment delegate to their pals.
United Arab Emirates country and area codes
United Arab Emirates country code - (971)
United Arab Emirates area codes:
| | | | | | |
| --- | --- | --- | --- | --- | --- |
| Abu Dhabi | 2 | Fujairah | 9 | Ras Al Khaimah | 7 |
| Ajman | 6 | Hatta | 4 | Ruwais | 2 |
| Al Ain | 3 | Lihbab | 4 | Sharjah | 6 |
| Dubai | 4 | Madinat Zayed | 2 | Umm-Al Quwain | 6 |
3 easy steps to make free calls to United Arab Emirates
Go to iEvaPhone.Com
Select United Arab Emirates from country list and enter phone number
Press Call button