Free calls to Albania
Please wait while we are checking whether your call can be connected.
Travelling is not everybody's cup of tea as not many people are fans of it. For several people it is the opportunity to disconnect from their regular life and stress. Tired from their hectic and crazy schedules, work as well as family, these people get a distance from it. In the process, many realize the true importance of them in their life. Various people say that we never know and feel about something until we feel about it.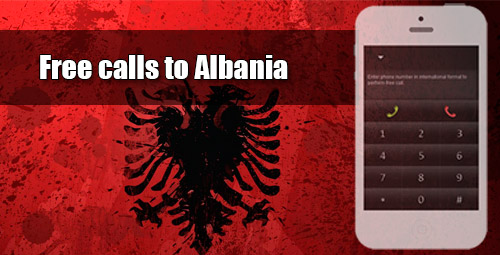 To travel is to feel wonderful in many ways, as one is able to encounter the destinations to visit and get new people to meet. It is an amazing underrated investment done by a person in oneself. Every investment comes with a cost and each process has its own level of trouble. In international travelling, the common trouble that is encountered by many is with the way of communing. Numerous international calls service providers are there for you to sort your needs.
However, the prices asked for the offered service is not for everybody. The service is costly and makes a person to think more than once about using it. Several businesses know the pain, as they have to frequently make international phone calls. Due to the high prices of the calls, businesses add it as a monthly income in their balance sheets. As an alternative to these costly means, one can use iEvaphone for making cheap international calls.
iEvaphone is a great way of connecting and making free calls to Albania as well as to any other country. With the service you can call anywhere in the world to any person easily. There is no need to pay for the international calls that highly charged when iEvaphone is present.
Free calls to Albania is just seconds away, when iEvaphone is available. There is no need to register and sign up for availing the services. No need to give your credit card details and any other details when using the service. For using iEvaphone, there is no requirement of downloading any plug-in for making the calls.
iEvaphone is completely free and reliable service offering you to make free calls to Albania. People as well as businesses can use the service on their browser and smartphone whenever and wherever they want to. Visit the site and enter the code along with the person's phone number to connect with him/her in a matter of seconds.
Avoid the search and looking for a way to make free international calls to any country with iEvaphone. No trial and no monthly payments for the service is to be done by a person. The calls are limited and only four calls are to allow to be made to any part of the country. The government decides time limit of each call after which the calls automatically gets disconnected. The time limit is renewed after every 24 hours allowing the users to access it with ease.
Albania country and area codes
Albania country code - (355)
Our website automatically inserts the country code when selecting the required country from the list.
Albania area codes:
| | | | | | |
| --- | --- | --- | --- | --- | --- |
| Berat | 32 | Kavaje | 55 | Sarande | 852 |
| Durres | 52 | Korce | 82 | Shkoder | 22 |
| Elbasan | 54 | Kruje | 511 | Tirane | 4 |
| Fier | 34 | Lushnje | 35 | Vlore | 33 |
| Gjirokaster | 84 | Pogradec | 83 | | |