Free calls to Russia
Please wait while we are checking whether your call can be connected.
Do you know that you can save a lot on international calls? If not, then please be informed that making free calls to Russia is possible through an advanced technology called VoIP. It allows one to make unlimited international calls to any country from your own. This way you can make international calls without putting much burden on your pocket.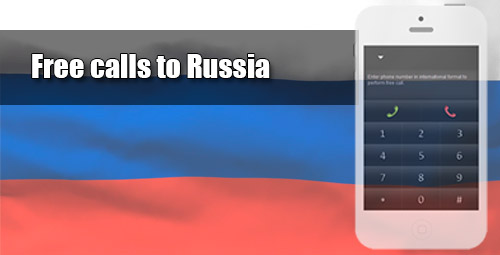 What is VoIP technology? VoIP (voice over internet protocol) is an advanced technology being used by many websites on the internet to offer free international calls. Today, a number of VoIP based websites are available on the internet that anybody can use to make free calls to Russia and many other countries.
How VoIP (voice over internet protocol) makes free calling possible? When you use a mobile or landline phone to make calls, a phone line used to transfer your voice to the person you are calling. In VoIP based technology, when you make a call and speak, VoIP technology divide your voice into small chunks and send to the recipient and when these chunks reach there to the person you are calling, they again converted into the human voice.
In simple, VoIP replaced the working of phone lines and make it a cheap affair to make international calls. One can simply avail this service using their computer or laptop with the internet connection. You can even use your smartphone with internet access to make free calls using VoIP technology. All you have to do is, open a browser, searching for a good VoIP based website offering free calls, have to select the country code where you want to make calls, dial number of the person through the digital phone and here you are connected to the person within a few seconds.
This method allows you to make calls through PC to PC, PC to mobile and landline. Moreover, when you make calls using this method you can talk to that person without even realizing them how you are calling them. Because, this method does not disturb your conversation rather make it more effective and a long one.
Yes, by using VIP technology, you can make free international calls and can talk to the person for longer rather than trying hard to cut the call as soon as possible. Today, a lot of people go to the Russia whether for study purpose or business purpose from far away countries. Their families want to contact them, but call on a particular occasion or on a particular day and converse only to convey necessary stuff.
But, here, with the use of such an effective and high tech idea called VoIP (voice over internet protocol) you can converse for a long duration to your friend, family member or loved ones. Calling through this method is same as calling from your regular phone. The only difference it makes is the cost.
So, hope next time you will not even think about making international call through your mobile phone when VoIP is available to make free calls to Russia.
Russia country and area codes
Russia country code - (7)
Our website automatically inserts the country code when selecting the required country from the list.
Russia area codes:
| | | | | | |
| --- | --- | --- | --- | --- | --- |
| Arkhangelsk | 8182 | Krasnoyarsk | 391 | Samara | 846 |
| Astrakhan | 8512 | Kurgan | 3522 | St. Petersburg | 812 |
| Barnaul | 3852 | Kursk | 4712 | Saratov | 8452 |
| Belgorod | 4722 | Lipetsk | 4742 | Smolensk | 4812 |
| Bryansk | 4832 | Magnitogorsk | 3519 | Stavropol | 8652 |
| Cheboksary | 8352 | Mahachkala | 8722 | Surgut | 3462 |
| Chelyabinsk | 3512 | Moscow | 495/499 | Tolyatti | 8482 |
| Cherepovets | 8202 | Murmansk | 8152 | Tomsk | 3822 |
| Chita | 3022 | Naberezhnye Chelny | 8552 | Tula | 4872 |
| Ekaterinburg | 343 | Nizhny Novgorod | 831 | Tver | 4822 |
| Irkutsk | 3952 | Nizhny Tagil | 3435 | Tyumen | 3452 |
| Ivanovo | 4932 | Novokuznetsk | 3843 | Ufa | 347 |
| Izhevsk | 3412 | Novosibirsk | 383 | Ulan-Ude | 3012 |
| Kaliningrad | 4012 | Omsk | 3812 | Ulyanovsk | 8422 |
| Kaluga | 4842 | Orel | 4862 | Vladimir | 4922 |
| Kazan | 843 | Orenburg | 3532 | Vladivostok | 423 |
| Kemerevo | 3842 | Penza | 8412 | Volgograd | 8442 |
| Khabarovsk | 4212 | Perm | 342 | Voronezh | 473 |
| Kirov | 8332 | Rostov-on-Don | 863 | Yakutsk | 4112 |
| Krasnodar | 861 | Ryazan | 4912 | Yaroslavl | 4852 |