/
Free calls to Bosnia and Herzegovina
Free calls to Bosnia and Herzegovina
Please wait while we are checking whether your call can be connected.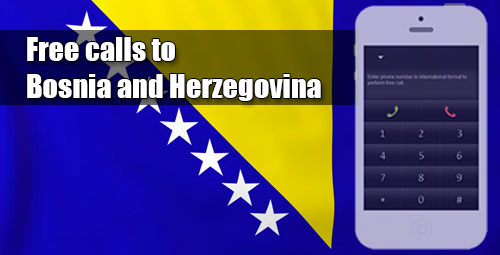 Many online free calls come with annoying registration process and charges that refraining you from pouring your heart's content out. In the current period of technology, everything comes with a price tag and the tag is generally not cheap.
Due to high price of communication, not many people are able to talk with their relatives or close people living outside the country. However, there are multiple sites present online that can help the people to make free calls to Bosnia and Herzegovina with ease. Among these, iEvaphone free calling app is a great choice for many people looking for an alternative.
Bosnia and Herzegovina country and area codes
Bosnia and Herzegovina country code - (387)
Bosnia and Herzegovina area codes:
| | | | | | |
| --- | --- | --- | --- | --- | --- |
| Banja Luka | 51 | Doboj | 53 | Sarajevo | 33 |
| Bihac | 37 | Gorazde | 38 | Travnik | 30 |
| Bijeljina | 55 | Gradiska | 51 | Trebinje | 59 |
| Bosanska Krupa | 37 | Mostar | 36 | Tuzla | 35 |
| Brcko | 49 | Pale | 57 | Visoko | 32 |
| Bugojno | 30 | Prijedor | 52 | Zenica | 32 |
| Derventa | 53 | Sanski Most | 37 | | |
3 easy steps to make free calls to Bosnia and Herzegovina
Go to iEvaPhone.Com
Select Bosnia and Herzegovina from country list and enter phone number
Press Call button