Free calls to Zimbabwe
Please wait while we are checking whether your call can be connected.
Many international travelers find the international call services very costly and frustrating. They often encounter trouble and complications while talking to their family members and others residing in their home country. Some service providers are not distinctive about their offering and cut some hidden charges while accessing the service. Due to this, many people have to pay about 10 times more than the normal price charged. Not many people are fond of the international call services as they make people experience more trouble as compared to benefits encountered.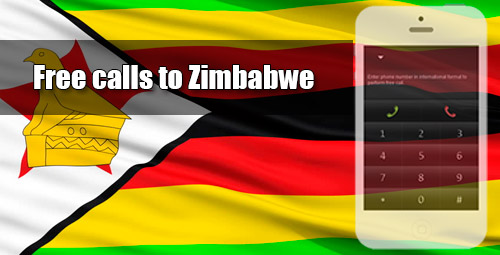 Global roaming is crazy expensive and many people get to about it when they accessed for their use. The prices are so damn high that most of the individuals only utilize it when there is a dire emergency also thinking twice before doing so. Rates per country and minute vary in large numbers making the person to have a chart of rate list in order to know about the charges to be paid for the calls and messages made. For allowing use the calling services to its fullest, you can use the assistances of iEvaphone that is there to assist you in making free calls to Zimbabwe and other countries.
It is a free and completely reliable application that allows making outgoing calls to any number without any trouble. Based on an entirely unique concept and allows the person to use it any platform without any trouble. Just the person willing to use the service has to visit the site. With its cheap service free calls to Zimbabwe is even more desirable than thought. Working more easily than a normal telephone call, the service is a great necessity for the people that are constantly travelling from one place to another.
Several people have heard the stories where others on their travel use their smartphones and their supplementary cellular devices, getting a return gift of large amount bills. The international call is now easy from the help of iEvaphone giving you the chance to get a good companion on the go for communicating with people present in home country or in any other country. There is absolutely no fees to be paid for the calls made and no sort of registration charge is asked during the service initiation, you can easily use the service whenever and wherever you want to with ease.
Zimbabwe country and area codes
Zimbabwe country code - (263)
Our website automatically inserts the country code when selecting the required country from the list.
Zimbabwe area codes:
| | | | | | |
| --- | --- | --- | --- | --- | --- |
| Beitbridge | 286 | Gweru | 54 | Masvingo | 39 |
| Bindura | 271 | Gwanda | 284 | Mutare | 20/220 |
| Bulawayo | 9 | Harare | 4 | Norton | 62 |
| Chegutu | 53 | Hwange | 281 | Raffingora | 667 |
| Chinhoyi | 67 | Kadoma | 68 | Rusape | 25/225 |
| Chipinge | 227 | Kariba | 61 | Ruwa | 273 |
| Chiredzi | 31 | Kwekwe | 55 | Victoria Falls | 13 |
| Chitungwiza | 270 | Marondera | 279 | Zvishavane | 51 |