Free calls to Belgium
Please wait while we are checking whether your call can be connected.
There is no full control over the costly international calls as many factors are present in the way of pricing them and causing them. Many people have their own questions regarding the cost price of international calls. The main factor that causes the rise in the price is the fact how well the country is connected to the outside world and how rich as well as competitive is the telecommunications industry of the country. Making international calls from the phone is very expensive and not many people prefer to use whenever we want to.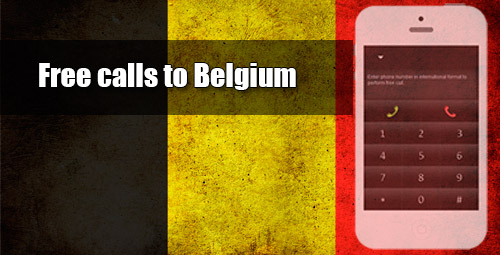 The international calls are expensive as the process of transfer calls to other countries requires a lot of capital and the process is quite extensive. Many service providers offer the international calls at cheap cost by the quality available is quite low and not up to the mark in comparison to the traditional calls. The smartphone become a dumbphone from the instance the person touches down on a foreign land and becomes instantly active when on the home soil. However, those days are gone when people have to pay a huge amount for international calls.
With the help of iEvaphone, you can get the necessary control over the international calls as well as over the price. Now you can easily make free calls to Belgium without any sort of trouble. It allows you to make any regular telephone call with ease and avoid any huge charges that is charged by any other. The software never requires any sort of money and no amount is asked in order to use the service. For enhancing the call quality, you need to have a good internet connection and talk to people with it all around the globe.
Call landlines and mobile phones with ease from the help of iEvaphone. You can make free calls to Belgium whenever you want to and talk to people in an instance. Based on a unique concept and free calls to Belgium makes the service to be worth the shot. You can easily use the service on your smartphone by using the 3G service and call anybody anywhere you want to.
iEvaphone at present offers 4 free calls on a daily basis and the time limit is governed by their software. The time limit is there because iEvaphone pays for the calls made. The person has to go the website and dial the number in order to talk to the person residing in other country. There are never any hidden charges and no sort of amount is asked. The service of iEvaphone is expanding and more people are becoming a part of the growing network.
Belgium country and area codes
Belgium country code - (32)
Our website automatically inserts the country code when selecting the required country from the list.
Belgium area codes:
| | | | | | |
| --- | --- | --- | --- | --- | --- |
| Aalst | 53 | Genk | 89 | Mechelen | 15 |
| Antwerp | 3 | Hasselt | 11 | Mons / Bergen | 65 |
| Bruges | 50 | Kortrijk | 56 | Namen / Namur | 81 |
| Brussels | 2 | La Louviere | 64 | Ostend | 59 |
| Charleroi | 71 | Leuven | 16 | Tournai / Doornik | 69 |
| Gent | 9 | Liege | 4 | Verviers | 87 |