Free calls to Portugal
Please wait while we are checking whether your call can be connected.
Text messages cannot replace the value of a phone call, especially when someone special or dear one is living in a faraway nation such as Portugal. Talking over call will always remain special and valuable. However, the method of calling e.g. traditional landline or cell phone can be replaced with a unique technology called VoIP based calls.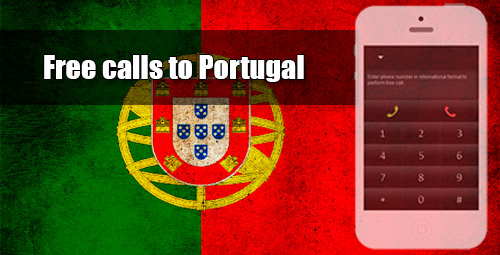 Consequently, if you are still using your regular phone for making calls in Portugal or anywhere in the world, then immediately stop and switch to a smart idea of making free calls to Portugal. It will not only make your international calling a cheap affair, but will also make your conversation period an effective one.
How making free calls to Portugal is possible? You may probably take it as a scam or scheme to rob you, but in actuality it is a truth. As you are aware that technology is getting advanced these days and this advancement has introduced us to a technology called VoIP.
What is VoIP technology and how it works? VoIP or voice over internet protocol is a modern technology that has replaced the work of telephone lines. On the place of phone lines it works on the web.
Now let`s understand how this technology works. When you make a call using your regular phone, the phone line is that transfers your voice to the recipient or the person listening to you on the other end. However, the new VoIP technology converts the voice in small chunks when receive any and share it in small masses of voice and send to the recipient. When these small masses reached to the recipient the technology converts them back into the human voice. That is how this technology makes it possible to make free international calls.
How to use VoIP technology correctly? Your computer system and the internet connection are the resources required to make an effective use of VoIP technology for making free calls. How, let's discuss. You have to access the internet with good bandwidth on your computer system, then you have to search for a VoIP based website offers making free international calls. Now you have to select the country Portugal to select its country code, after selecting the country, you can dial the number of the person whom you want to make a call, now click on the green dial button and you are connected to the person in Portugal within a few seconds.
Will making free calls to Portugal using the web make a difference? This enquiry may generate in your brain after knowing the possibility of making free international calls through the internet. The riposte of this question is No. Calling through the web using VoIP technology will not make a difference rather it will make your conversation an effective one.
By making calls through the web, you can make your conversation period a longer one. Moreover, you don't need to think twice before making an international call through this ultimate method.
Portugal country and main cities codes
Portugal country code - (351)
Our website automatically inserts the country code when selecting the required country from the list.
Main cities codes:
Amadora: 21
Azores: 292, 295, 296
Braga: 253
Coimbra: 239
Madeira (Funchal, Porto Santo): 291
Lisbon: 21
Porto: 22