Free calls to Armenia
Please wait while we are checking whether your call can be connected.
Armenia is presently the country that exists only in the 3,000-year-old Anatolia maps. It is known as the world's first country inhabiting Christians in 301 AD about 1,700 years ago. The country is a unitary and multi-party democratic nation that contains a good ancient cultural heritage. People all around the world are motivated as well as attracted to many things making them to travel outside their geographical boundaries.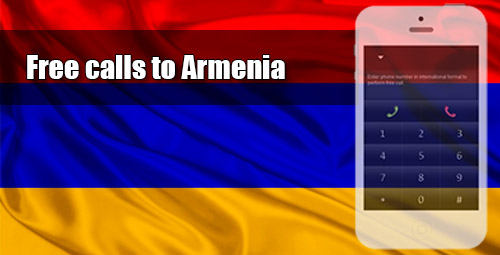 For travelers, Armenia inherits cheap travel and rich view checking most of the boxes for their international travel. Having a mix composition of spiritual and secular surroundings, it is a great place to go when it is winter. The main trouble that many people do encounter when going to a location that is away from their geographical place is to maintain the communication. It is crucial to keep in touch with the people at your home and office in order to ensure that you know what is happening.
International calls are termed by many as the best possible mode of communication when a person is travelling away. However, no person has a control over the price rates of international calls, as there are several influencing factors that do affect it. The price of the international call is one of the concerns that people consider while trying to make a call to other individual to another country. Free calls to Armenia are possible when you use the services of iEvaphone and it just needs a stable internet connection to give you the means to communicate. Making international online calls is not what everybody likes to do as both the company and country does make some bucks with each call made as well as received.
iEvaphone gives the best service among the competition to allow you to do free calls to Armenia with ease. anybody can use the services to get the relief from the pain of the international call rates. Many people like to talk without any sort of trouble or limit and iEvaphone entirely aims to give it to all. Free calls to Armenia are now easy without doing any sort of registration and amount to be paid for the calls. However, the person using the service can only make about four free calls in a day, which is renewed after every 24 hours. Try to use the calls in the best way possible to avoid any trouble.
Armenia country and area codes
Armenia country code - (374)
Our website automatically inserts the country code when selecting the required country from the list.
Armenia area codes:
| | | | | | |
| --- | --- | --- | --- | --- | --- |
| Abovyan | 222 | Gyumri | 312 | Tashir | 254 |
| Alaverdi | 253 | Hrazdan | 223 | Vanadzor | 322 |
| Artashat | 235 | Kapan | 285 | Yerevan | 10 |
| Echmiadzin | 231 | Spitak | 255 | | |
| Gavar | 264 | Stepanakert | 47 | | |
Go to iEvaPhone.Com
Select Yemen from country list and enter phone number
Press Call button