Free calls to Botswana
Please wait while we are checking whether your call can be connected.
For encountering the some of the best and greatest wildlife landscape, many people plan their trip for Botswana. Known as one of the most stable countries of Africa, it is also the longest continuous multi-party democracy. Most of the landscape of the country is near desert filled with Africa's epic wildlife. It does have a reputation for being the most exclusive safari destination offering tempting environment to camp in and see the nature first hand.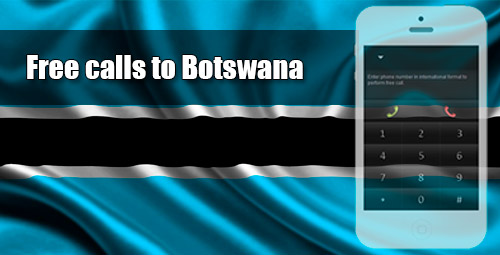 Diamond mining and tourism dominate the economy of the country. While planning a trip to the country, it is essential to see and consider the facts that can cause trouble. Due to the change in time and technology, a new factor is added to the trip and it increases the phone calls. International call services are available for a higher cost that people find it unbearable and unbelievably high. The rates of international calls are usually diverse and changes from country to country. Before going to Botswana, a person must have to acknowledge the price of the calls made on minute basis, to make a final budget.
In these types of situations, any person can overcome the planning and mind stressing process by using the services of iEvaphone. Save the cost encountered by choosing the international calls through the service easily. iEvaphone allows anybody around the world to make free calls to Botswana without any trouble encountered. If there is a need to talk to your family, friends and colleagues, use iEvaphone to save yourself from the trouble of paying more than normal.
Each international call made costs around double or more than normal ones. By using the services of iEvaphone, one can easily avoid the cost and make free calls to Botswana or to another country. Stay connected to your loved ones with iEvaphone. Just keep the number of the person with whom you want to talk handy and go to the dial pad of the site to make the call.
Free calls to Botswana can be made only four times in a day to make sure that is no sort of network congestion by iEvaphone. After four calls, the person can make calls after a day or a period of 24 hours easily. The calls are completely free for all people and available almost 24/7 to help them in most possible way.
Botswana country and area codes
Botswana country code - (267)

Our website automatically inserts the country code when selecting the required country from the list.

Botswana area codes:
| | | | | | |
| --- | --- | --- | --- | --- | --- |
| Francistown | 24 | Mahalapye | 47 | Palapye | 49 |
| Gaborone | 3 | Maun | 68 | Ramotswa | 53 |
| Kanye | 54 | Mochudi | 57 | Selebi-Phikwe | 26 |
| Letlhakane | 29 | Mogoditshane | 3 | Serowe | 46 |
| Lobatse | 53 | Molepolole | 59 | Tlokweng | 3 |