Please wait while we are checking whether your call can be connected.
Cheap calls to Pakistan
It`s Cheap Or It`s Free! Making Calls To Other Countries Is Not Expensive Anymore!
All prices are on an increasing trend. Daily commodities, clothing, food, transportation and everything have become expensive but do you know you can make cheap calls to Pakistan? Is it hard to believe? The phone charges have increased to a great trend in recent days. Customers using Messages, phone calls and internet usage on mobile phone services are on a high note and the mobile phone companies have increased the charges for all the services they offer making it difficult for you to get connected with your near and dear ones across the world. Considering the fast growing mobile charges, there are lot of websites and phone companies who came up with cheap or free calls to international location which is a boon to all users. The effort requires appreciation as it makes it convenient for the user to save their money.
Many web services offer calls to Pakistan where you can connect to mobiles and landlines through internet. There are few BT lines offering low price international calls and also few companies that replace BT lines also offers best price for all international calls. Saving money is the more important to everyone and if you wish to talk to your friends and relatives in Pakistan for hours together, you tend to spend a lot of money. If you get an opportunity to make cheap calls to Pakistan, you should definitely grab the opportunity without a second thought. There are many operators allowing international calls to Pakistan in a reduced price. They also offer a lot of plans and offers for customer who makes regular international calls.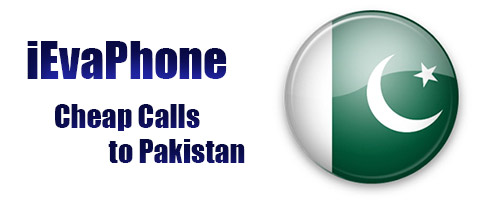 Many services are offered by companies where they provide cheap call services without having you change your service provider. You can make cheap calls to Pakistan with the same landline or mobile service provider. The companies offer access codes that you can use when you dial the international numbers. You don`t need any account to be registered or any other additional bills for these services. You need to call the company and buy calling credit after which the access code gets activated and you can start making international calls at a cheaper rate. You also get complete instruction and tariff about the charges for all international calls. When you have a way to save money and make cheaper calls, why do you still pay high bills?
Call to Pakistan with iEvaPhone service!