Free calls to Ghana
Please wait while we are checking whether your call can be connected.
Making calls abroad seems to be a difficult task these days. It takes a lot of money from your pocket. Therefore, people are getting more into messaging and video calls. Well, now, thanks to the advent of modern technology, making calls seems to be an easy task. With free calling software, you can now make calls without spending a single dime from your pocket. If you have any loved one residing in Ghana, then make free calls to Ghana, with ease. Just dial the number with country code, and leave the rest on software.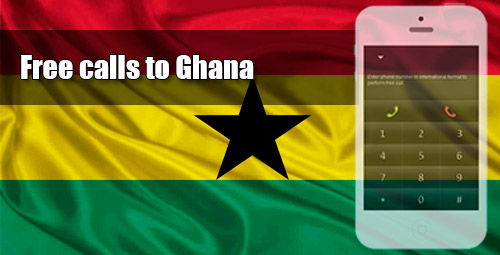 Ways to use the system
Now, the primary call in your mind is the way to use this system for making some free calls to Ghana. For the first step, you need a smartphone or computer, as a starting device, with proficient internet connection. After that, enter the free call making websites and allow the widget to load. Next, you have to enter the country from the given list, followed by number.
Next steps to follow
Once you have chosen the country from given list and number, you have to press the call button for initiating a call. After pressing for a call, you will come across a short promotional video. It will hardly take few seconds of your time, and you must check this out. Wait for few extra seconds to let the video finish. After that, you will be automatically connected to your given number. Making free calls now seems easy, as the software is open 24 x 7.
Some limitations to follow
Even though, making calls is easy, but there are some restrictions, you need to be aware of. This software prevents to make more than 4 calls on a daily basis. Therefore, you should dial your numbers, accordingly. On the other hand, the time limit is governed here by the destination of your calls on every number you dial. Once the free time span is over, you will be disconnected on an automatic manner. Therefore, there are no chances for you to make any kind of payments. The software is free from hidden costs too. So, avoid producing any private information.
Time for iEvaphone now
Well, the competition might be tough, but none can beat the importance of iEvaphone. This website offers free calls to Ghana, without any trial or registration hassle. As you do not have to invest any money, therefore; this site will not ask for any kind of bank details or credit card options. All you need is a proficient host device and proper internet connection, and leave the rest on iEvaphone. You will be glad to make this decision!
Ghana country and area codes
Ghana country code - (233)
Our website automatically inserts the country code when selecting the required country from the list.
Ghana area codes:
| | | | | | |
| --- | --- | --- | --- | --- | --- |
| Accra | 30 | Ho | 36 | Sunyani | 35 |
| Agona Swedru | 33 | Koforidua | 34 | Tamale | 37 |
| Ashiaman | 30 | Kumasi | 32 | Techiman | 35 |
| Bawku | 38 | Madina | 30 | Tema | 30 |
| Berekum | 35 | Nkawkaw | 34 | Wa | 39 |
| Bolgatanga | 38 | Obuasi | 32 | Winneba | 33 |
| Cape Coast | 33 | Secondi Takoradi | 31 | Yendi | 37 |