Free calls to Slovakia
Please wait while we are checking whether your call can be connected.
Situated right at the heart of Europe, Slovakia is a country well known for preserving their own languages and cultural traditions. Bordered by Czech Republic and Austria, the country is filled with castles and mountains. Having the touch of history and legends, Slovakia is one of the most desired place of people looking to experience something that is extraordinary and brilliant. People love to get a glimpse of countryside views with the contrast of ages present in Slovakia.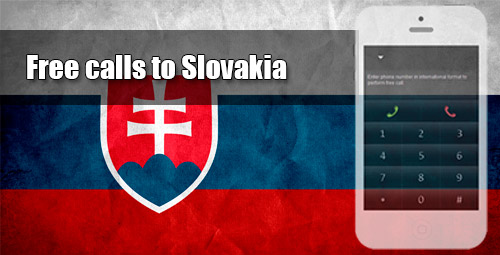 When travelling to another country, it is important to know about the troubles that can be encountered during the journey. The main trouble that most people do experience while communicating with others. It is no secret that the international calls are priced relatively high and they often go over the bar in some places.
Going to another country is pricey, but with the presence of international calls within the territory, the budget exceeds the limit. The international calling costs and rates depend on the factors that different from each other. Providers list their international call plans at diverse rates according to their offerings and features. However, not every person has a mind make up to bear the charges of the calling plans offered internationally.
Nevertheless, there is iEvaphone for assistance. iEvaphone allows you to make free calls to Slovakia without any trouble encountered. It makes the calls possible as it uses VoIP and allows you to talk to people in distant places with ease. Without spending any penny, you can save a lot on your phone bill and stay connected with other people as well.
There is need to register or sign-up for making free calls to Slovakia on iEvaphone. Just go to the site and make calls free for 24/7 from any part of the world. The calls that can be made in a day is restricted to 4 as to ensure their reliability and quality when required. No software installation is required to utilize the free services of the site. Making calls from the site is as simple as doing normal calls, allowing you to use it more than often. Not a single amount is to be paid for the calls after a particular period, as it is free in every manner possible.
So what are you waiting, just visit the site for making free calls to any country, you want to.
Slovakia country and area codes
Slovakia country code - (421)
Our website automatically inserts the country code when selecting the required country from the list.
Slovakia area codes:
| | | | | | |
| --- | --- | --- | --- | --- | --- |
| Balti | 231, 331 | Comrat | 298, 398 | Soroca | 230, 330 |
| Cahul | 299, 399 | Dubasari | 215, 315 | Taraclia | 294, 394 |
| Chisinau | 22, 32 | Orhei | 235, 335 | Tiraspol | 533 |
| Ceadir Lunga | 291, 391 | Ribnita | 555 | Ungheni | 236, 336 |