Please wait while we are checking whether your call can be connected.
Free calls to Canada
Are you looking for some options that provide you free international calling services? Do you want to talk with your near and dear ones over the phone free of cost? If yes, then the wait is over now! With the innovation of special applications, people will get the chance to communicate with their relatives settled in Canada without any worry of paying expensive bills and call duration. When you make a call to Canada, you will notice that you have to pay high cost for calling even a single call, but on ievaphone.com you may make free calls to Canada.
The creation of the web service gives you an opportunity to make free calls to Canada with the use of any devices including smart phones, Mac and many others. You will feel surprised to know that in order to make utilization of this service; you are required to have only some things at your side such as high speed internet connection, a web browser along with the features of Adobe flash player and speaker. The higher the speed of the internet you are having, the great features and the performance you will be able to enjoy with the service. It is for sure that many people have their minds that this web service will having some sort of extra hidden charges with it. But the great news is that there are no extra charges and the service is completely free of cost.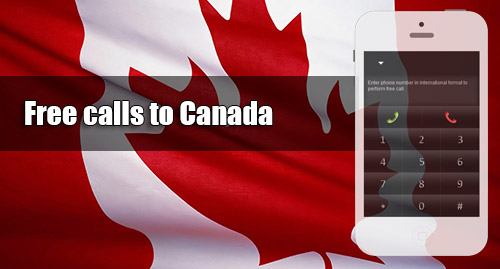 The users are not allowed to give any confidential details, no downloading of any software, no need to pay the registration charges, no credit cards, no marketing strategy and promotions. The web service is well known for its standardized performance that gives the feature to every user to make calls freely for 24*7. But make sure that you won't be able to free calls to Canada more than 4 in a day. Calling more than four times will make your call disconnected. The only thing you need to do is to have the correct information about the international format and the country codes.
As we all know that there are large numbers of people who are having special ones settled in Canada. There was a time when international calling considers being as the most expensive activity that really creates the problem for the one to talk with their close ones. But, now all the problems are solved in a quicker manner. Free calling to Canada with the web application seems as if you calling locally, this are just because of this dynamic service that is creating a big smiles and satisfaction on the audience's face. It is the time to be in connection with your loved ones abroad and maintain strong bonding of love with each other.
In order to use this service for calling, you need to follow the same system as you follow in calling normal phone call. There is nothing extra than that. For accessing the service, browse through the official website of the service and call any part of the world where you want. Free Calls to Canada has now become more simple and popular.
The most dynamic technology that is giving the high quality result is none other than the "Ievaphone" and it is one of the most amazing web services that is creating history in the web technology due to its effective results and features. The main thing is that it is free of any charges and its results are just stunning. The things you need for accessing the services are also very simple that will not put you into any complicated issues. For acquiring more knowledge about the web application, go through the official site known as http://ievaphone.com/.
Canada country code
Canada Country Code - (1)
Our website automatically inserts the country code when selecting the required country from the list.
| Province | City | Area Code(s) |
| --- | --- | --- |
| Alberta | Banff, Calgary, Lethbridge, Medicine Hat | 403, 587 |
| | Edmonton, Grande Prairie, Jasper, Peace River | 780, 587 |
| British Columbia | Abbotsford, Richmond, Vancouver, Whistler | 604, 778, 236 |
| | Victoria | 250, 778, 236 |
| Manitoba | Winnipeg | 204, 431 |
| New Brunswick | - | 506 |
| Newfoundland | - | 709 |
| Northwest Territories | - | 867 |
| Nova Scotia | - | 902 |
| Nunavut | - | 867 |
| Ontario | Hamilton | 905, 289, 365 |
| | London, Windsor | 519, 226 |
| | North Bay | 705, 249 |
| | Ottawa | 613, 343 |
| | Thunder Bay | 807 |
| | Toronto | 416, 647, 437 |
| Prince Edward Island | - | 902 |
| Quebec | Quebec City | 418, 581 |
| | Laval | 450, 579 |
| | Montreal | 514, 438 |
| | Gatineau, Sherbrooke | 819, 873 |
| Saskatchewan | - | 306, 639 |
| Yukon Territory | - | 867 |