Free calls to Serbia
Please wait while we are checking whether your call can be connected.
Have you travelled from your country to a foreign country? Then it is very certain that you are facing lots of problem calling your dear and near ones in your country. You must be having a hefty phone bill or have to buy a local sim. But do not worry those days are gone. Now you can call your country absolutely free from your phone or PC.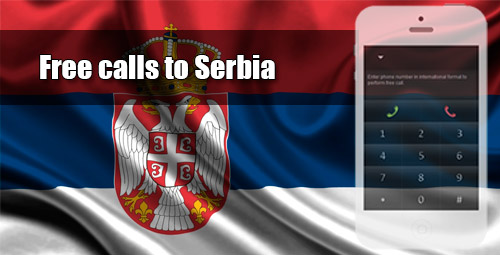 Are you astonished hearing this? There is nothing to be astonished about. We have made arrangements so that people like you do not face any problem while making a call. You do not have to pay your telephone company a huge bill nor have you to buy a local sim. You can use your own phone and make calls. The only thing that is required to make free calls to Serbia is that you just have to download an app on your phone or computer.
You may be thinking how it is possible? Yes it is and the best part is that it is absolutely free. You do not have to register nor will you have to share your credit card number. Once you download the app you are ready to call anyone anywhere in the world. You just have to dial the number in the international format and you are connected to your destination. Though there is some limitation that has to be followed. You can make a total of four calls using a singular IP in 24 hours.
There are various benefits of using this service of free calls to Serbia. The most important advantage is that it is absolutely free. Do not think that the person whom you call will have to pay. No, it is not so. It is totally free and there is no hidden cost. The calls are clear and unobtrusive. Isn't it amazing that with the saved money you can buy gifts for your dear one at home. Again you can use your own mobile to do these calls and you do not need to have a new mobile service provider also. What you need is only the apps in your phone or PC.
This special app is brought to you by iEvaphone, giving you a chance to call your home land without paying a single penny or not even registering. So, what are you waiting for? Just download this app and make free calls whenever you wish.
Serbia country and area codes
Serbia country code - (381)
Our website automatically inserts the country code when selecting the required country from the list.
Serbia area codes:
| | | | | | |
| --- | --- | --- | --- | --- | --- |
| Arandelovac | 34 | Krusevac | 37 | Prokuplje | 27 |
| Backa Palanka | 21 | Lazarevac | 11 | Ruma | 22 |
| Becej | 21 | Leskovac | 16 | Sabac | 15 |
| Belgrade | 11 | Loznica | 15 | Senta | 24 |
| Bor | 30 | Mladenovac | 11 | Smederevo | 26 |
| Bujanovac | 17 | Nis | 18 | Sombor | 25 |
| Cacak | 32 | Novi Pazar | 20 | Sremska Mitrovica | 22 |
| Cuprija | 35 | Novi Sad | 21 | Subotica | 24 |
| Dakovica | 390 | Obrenovac | 11 | Temerin | 21 |
| Gnjilane | 280 | Pancevo | 13 | Urosevac | 290 |
| Gornji Milanovac | 32 | Paracin | 35 | Uzice | 31 |
| Indija | 22 | Pec | 39 | Valjevo | 14 |
| Jagodina | 35 | Pirot | 10 | Vranje | 17 |
| Kikinda | 230 | Pozarevac | 12 | Vrbas | 21 |
| Kosovska Mitrovica | 28 | Prijepolje | 33 | Vrsac | 13 |
| Kragujevac | 34 | Pristina | 38 | Zajecar | 19 |
| Kraljevo | 36 | Prizren | 29 | Zrenjanin | 23 |