Free calls to Angola
Please wait while we are checking whether your call can be connected.
Although Angola, the seventh largest country in the Africa, is rich in the economy, for the diamonds, oil, gold, copper, tourism, and agriculture, it has not become so much advanced in technology yet. So, a large portion of the young generation of Angola, leave their country and go to abroad, seeking better opportunities. These people need to contact their parents and relatives in Angola. But, the high charges of the International phone calls, cast a limitation to place a phone call to the relatives, whenever they want. If most of the income wave with the phone call, then how could they manage their living in the foreign country? Folks from Angola! there's a superb news waiting to unveil. The free call service is now available in Angola. It means you can now make free calls to Angola.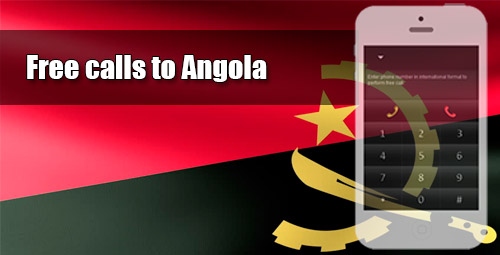 Yes, you heard right, you can now call your relatives from Angola, without concerning the high phone call charges. There are many service providers are out there who offers their free call service to their customers. This service is available for 24/7, so there is no even any limitation on the calling time either. You don't need to register to the website or download any additional hardware or software. These service providers won't ask you to share your credit card information. All you need is a high-speed internet connection, a headphone with mic, that's all. You can place free calls to Angola using your Smartphone, Mac, or PC.
iEvaphone is such a service providers, offering the privilege to place free calls to Angola as well as other corners of the world. If you want to place a free call through iEvaphone, then go to their official website; you will see the phone widget there. Search your country and area code, and place them in order, put phone the number, and place your free call. The entire process is not difficult. The process is quite like the same as you do on your mobile phone. iEvaphone offers fine voice clarity to their customers that the person you are calling can never understand that you are calling from your PC.
But obviously, like other free services, this free call service also has its limitations. You can make only 4 calls/day, each call having its time limitations. And this time limitation depends on the area you are calling to.
Angola country and area codes
Angola country code - (244)
Our website automatically inserts the country code when selecting the required country from the list.
Angola area codes:
| | | | | | |
| --- | --- | --- | --- | --- | --- |
| Benguela | 272 | Lobito | 272 | Namibe | 264 |
| Caala | 241 | Luanda | 22 | N'dalatando | 235 |
| Cabinda | 231 | Lubango | 261 | Saurimo | 253 |
| Camacupa | 248 | Luena | 254 | Sumbe | 236 |
| Gabela | 236 | Malange | 251 | Tombwa | 264 |
| Huambo | 241 | M'banza-Kongo | 232 | Uige | 233 |
| Kuito | 248 | Menongue | 249 | |   |
Go to iEvaPhone.Com
Select Yemen from country list and enter phone number
Press Call button