Free calls to Ireland
Please wait while we are checking whether your call can be connected.
Do you still use your regular mobile phone or landlines to make an international call? If yes, then immediately stop putting a burden on your pocket for costly international calls and prefer a new idea of making free international calls. Don't worry, it is not a new scheme to make you fool, but it is a new high-tech idea to make international calls through the internet. Yes, you may wonder but your internet connection may help you make free calls to Ireland and many other countries worldwide. You just need to learn its proper use.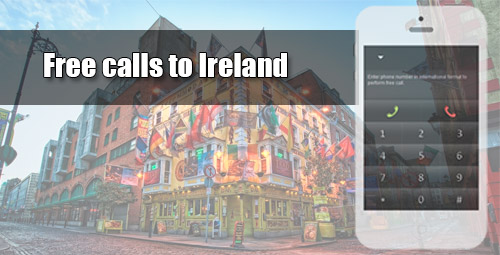 Best audio quality available
How your internet connection can become your free phone? This question is obvious to occur in one's mind that the internet is being used to send mails or is a method of communication through chats and social media, but how to use it to make free calls? Well, no doubt chatting and video chats are very common and well known method of communication through the internet, but making calls that too free is as well possible with your internet connection through a technology calls VoIP.
VoIP (voice over internet protocol) is a technology, respectively being used by some websites like ievaphone offering free calls to Ireland and other countries. What actually this technology does to make calls free? This technology turns analog audio signals into a digital signal. In simple, when you speak this technology convert your voice into small chunks and transfer it to the receiver and when your voice reach there it again converts into the normal voice from digital chunks. It follows the same procedure as our normal phone lines do, but leaves one with a long calling period without spending much on special call cards for making international calls.
This type of technology is in demand because of its cost effective nature. As you know this world is widely spread and people do have relatives, friends and some family members living far away or in some other countries for what communication through phone becomes costly due to what people used to lose pocket for special balance and call cards or prefer to cut their conversation period by trying to finish the conversation fast. But, Sometimes your conversation may require much time to talk for a long to discuss something important.
To meet these needs of people ievaphone.com using VoIP technology is rising by offering free calls to Ireland and worldwide. You just simply need to go to iEvaphone website on which you will find a digital phone with digits and country code. Just select the code and dial the number same as your regular phone and click on the green button, after two, three seconds you will get connected to the person you want to talk but with a savvy method. It is not necessary to have a computer system to take benefit of this technology as you can also use it on your smart phone having internet connection on it. So, don't wait and try this calling method right now.
Ireland country and area codes
Ireland country code - (353)
Our website automatically inserts the country code when selecting the required country from the list.
Ireland area codes:
| | | | | | |
| --- | --- | --- | --- | --- | --- |
| Ardee | 41 | Dundalk | 42 | Nenagh | 67 |
| Arklow | 402 | Dungarvan | 58 | Newbridge | 45 |
| Athlone | 90 | Edenderry | 46 | New Ross | 51 |
| Athy | 59 | Ennis | 65 | Passage West | 21 |
| Balbriggan | 1 | Galway | 91 | Shannon | 61 |
| Ballina | 96 | Greystones | 1 | Sligo | 71 |
| Ballinasloe | 90 | Kilkenny | 56 | Spiddal | 91 |
| Birr | 57 | Killarney | 64 | Swords | 1 |
| Bray | 1 | Leixlip | 1 | Tallaght | 1 |
| Carrick-on-Suir | 51 | Letterkenny | 74 | Thurles | 504 |
| Carlow | 59 | Limerick | 61 | Tralee | 66 |
| Castlebar | 94 | Longford | 43 | Tramore | 51 |
| Clonmel | 52 | Loughrea | 91 | Tullamore | 57 |
| Cobh | 21 | Mallow | 22 | Waterford | 51 |
| Cork | 21 | Monaghan | 47 | Westport | 98 |
| Drogheda | 41 | Mullingar | 44 | Wexford | 53 |
| Dublin | 1 | Naas | 45 | Wicklow | 404 |
| Dun Laoghaire | 1 | Navan | 46 | Youghal | 24 |