Free calls to Jamaica
Please wait while we are checking whether your call can be connected.
Many times when we feel like talking to relatives, friends or family members who lives in some other country, we drop the idea at the prospect of having to pay quite a huge sum to make those international calls. Doubtless there are many other service providers that offer tariff plans that make these calls seem reasonable but that is only because we see it in relation to the high costs of regular international calling. Apart from this, there are also many hidden charges that pull out the money that you thought you had saved. The most used low cost calling is Voice over Internet Protocol or VoIP which allows you to use internet as voice carrier by using your computer to any number anywhere in the world. Some of them may even be free but then you need to register on these sites and download and install their application and complete many other formalities. What if you can make free calls to Jamaica completely free of cost and without having to download or install any software? That would be amazing wouldn't it?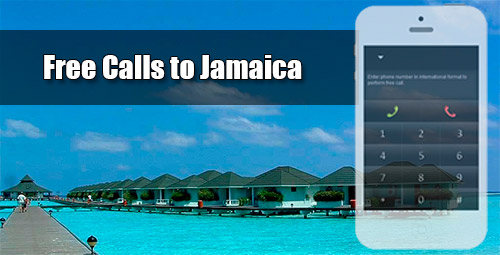 How To Use iEvaPhone To Make Free Calls To Jamaica:
Making a free calls to Jamaica is basically as simple as dialling a number from your phone. Once you reach iEvaPhone's website, allow the site's flash widget to load properly. Once that is done, select Jamaica from the list of countries to which free calls can be made using this service. When you have selected Jamaica as your preferred country, ISD code will automatically be dialled. Now enter the number which you want to call. Click on the call button to begin your call free call to Jamaica. When the call is being dialled, you will be presented with a promotional advertisement by our sponsors. Allow this advertisement to end and once this promo has ended. After this is completed, the call will automatically get connected to the target location in Jamaica.
iEvaPhone is a completely reliable and free service. You can easily make free calls to Jamaica to any mobile or landline number. A speedy network is preferred with good working 3G or broadband connection. The time span is however limited as regulated by the country you are calling and furthermore, you can use this service for up to 4 calls per day. So this is the best way you can make a quick call to your loved ones without having to pay anything at all.
Jamaica country code
Jamaica Country Code - 1876
Our website automatically inserts the country code when selecting the required country from the list.