Free calls to Yemen
Please wait while we are checking whether your call can be connected.
No person has a single percent of control over the highly priced international calls. The rates of the calls made internationally have crossed the bar that many considered fair. Almost every network provider is following the trend of increasing the prices of their international calls. The main thing that makes the price to rise up is the overall connection of the country with the outside world. The competitiveness in the telecom industry does play a major role in raising the call rate.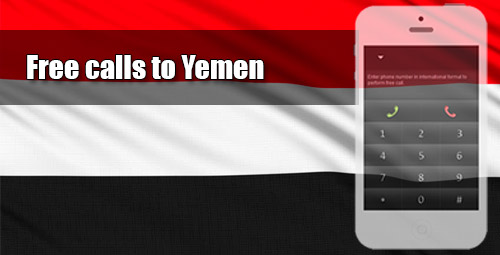 Many times, a person has to make calls to places that are not safe to know more about the safety of their loved ones. Yemen is country located in the Middle East and contains a population of 25,408,000 people. Despite being, a place that does has its ancient roots in the crossroads of Africa; it is currently encountering tension in form of civil war. Every day more and more people are coming under the effect of the ongoing war situations.
In the desperate times, proper communication is needed stay connected with people close to us. For helping the people in the process and allowing them to make free calls to Yemen, there is iEvaphone. The people living outside the country can easily use the services of iEvaphone for making free calls to Yemen in order to talk without any worry.
The constant effects of the ongoing tension make iEvaphone's services a boon to the people to make calls without any extra trouble. By simply using the service whenever you want, any person can know the well-being of their relatives, friends and employees. By communicating in the needed times, you can know about the present conditions of the surroundings and make immediate plans to help the people you know easily.
Making free phone calls to Yemen is not easy because of the high cost that is involved in the international calls. You can enjoy the services of the iEvaphone seamlessly as there is no sort of registration charge involved in the service. No need to make a separate account to use the service and make the calls when you want it. Each call can be made just by going over the site and inputting the person's phone number on the dial pad. After typing in the number of the person hit the dial option in order to make the call and you can connect to family and friend's easily.
Yemen country and area codes
Yemen country code - (967)
Our website automatically inserts the country code when selecting the required country from the list.
Yemen area codes:
| | | | | | |
| --- | --- | --- | --- | --- | --- |
| Aden | 2 | Hodeidah | 3 | Sana'a | 1 |
| Al Mukalla | 5 | Ibb | 4 | Shibam | 7 |
| Dhamar | 6 | Ka'ataba | 2 | Taiz | 4 |
3 easy steps to make free calls to Yemen
Go to iEvaPhone.Com
Select Yemen from country list and enter phone number
Press Call button