Free calls to Iran
Please wait while we are checking whether your call can be connected.
Your relative is staying in Iran, and making a phone call is costing you some precious bucks. What will you do to cut down the cost, without hampering your relationship? Well, the answer is simple! You just need to log onto the official web browser, and start making free calls to Iran immediately! It might seem to be a dream for you now, but it is possible. Thanks to the advent of modern technology, now it is not difficult to make a call, which will cost you nothing! You just need a host device and an internet connection. So, stop making phone calls now by spending bucks, and enjoy the free service.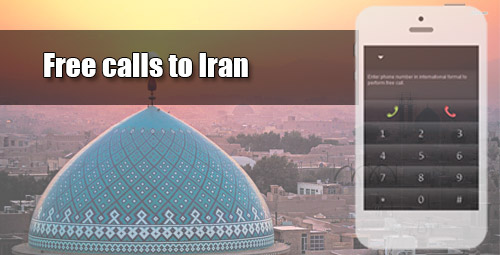 Best audio quality available
Most of the people have this misconception that free calls to Iran means you are not going to receive the best audio quality. Well, this is not always true, as modern free services are tested under different parameters before proceeding further. The sound will be tested, and even modern features are incorporated to make the calls free and suitable for various users. The website is free from any flashy animation of pop-up advertisement. It means you are now able to enjoy the best free calling services, without being disturbed by unnecessary pop-ups and displays.
Ways to use the service
Willing to know more about ways to make free calls with the help of web browser? Then you have to follow some simple steps. As a necessary requirement, you need to possess a smartphone or PC with proper internet connection. Moreover, you should also have a browser, after that, visit the official website from this software and allow the widget to load. For making some free calls through this package, you have to choose the country Iran from the list, and enter the phone, where you want to make calls.
Other steps to follow
The main challenge lies in the correct international number format, where you want to make the call. Moreover, you have the liberty to make four calls, per day, for the limited area. In case, you are willing to make more free calls then you might have to wait for the next day! However, these are not static, and the features are likely to change on daily basis. After entering the number, you have to press the green button for initiating a call. You will be welcomed with a promotional video, and wait for it to finish. After that, you will be redirected to the call automatically.
Availing help from iEvaphone
Even though the competition is tough, but nothing can beat the importance of Ievaphone. This web browser is free and reliable to use. You will get the opportunity to make four free calls to Iran with proficient audio quality. You are free from providing any debit card or credit card details while availing the service. Whether you are planning to connect through 3G or local broadband connection, iEvaphone helps you with both the options. Now, you can enjoy free calls to Iran for hours.
Iran country and area codes
Iran country code - (98)
Our website automatically inserts the country code when selecting the required country from the list.
Iran area codes:
| | | | | | |
| --- | --- | --- | --- | --- | --- |
| Abadan | 631, 632 | Karaj | 261, 262 | Sabzevar | 571, 572 |
| Ahvaz | 611, 612 | Kashan | 361, 362 | Sanandaj | 871, 872 |
| Amol | 121, 122 | Kerman | 341, 342 | Saqqez | 874, 875 |
| Arak | 861, 862 | Kermanshah | 831, 832 | Sari | 151, 152 |
| Ardabil | 451, 452 | Khorramabad | 661, 663 | Saveh | 255, 256 |
| Babol | 111, 112 | Khoy | 461, 462 | Shahrekord | 381 |
| Bandar Abbas | 761, 763 | Mahabad | 442 | Shahrud | 273, 274 |
| Birjand | 561, 562 | Malayer | 851, 852 | Semnan | 231, 232 |
| Bojnord | 584, 585 | Maragheh | 421, 422 | Shiraz | 711, 712 |
| Borujerd | 662, 665 | Marvdasht | 728, 729 | Sirjan | 345, 347 |
| Bushehr | 771, 772, 773 | Mashhad | 511, 512 | Tabriz | 411, 412 |
| Dezful | 641, 642 | Najafabad | 331, 332 | Tehran | 21, 221 |
| Eslamshahr | 228, 229 | Nyshaboor | 551, 552 | Urmia | 441, 443 |
| Gonbad Kavus | 172, 174 | Qarchak | 292 | Varamin | 291, 292 |
| Gorgan | 171, 173 | Qazvin | 281, 282 | Yazd | 351, 352, 353 |
| Hamadan | 811, 812 | Qom | 251, 252 | Zabol | 542, 544 |
| Ilam | 841, 842 | Rafsanjan | 391, 392 | Zahedan | 541, 543 |
| Isfahan | 311, 312 | Rasht | 131, 132 | Zanjan | 241, 242 |