Free calls to mobile
Making calls to mobile within same country can be cheap but there is no mobile operator worldwide than offer international calls at such cheap rates. These traditional calls to international mobile numbers have call rates as high as sky and so unaffordable for everyone who needs to make international calls frequently. And while there are many online services that offer very cheap call rates to make calls we offer entirely free calls to mobile numbers worldwide.
The best part of making these free calls is that you don't need any kind of registration, account management, card details to share, additional plug-ins or anything like this. All you need is internet browser, microphone, an active internet connection (WiFi/3G and any other internet connection) and flash player installed to support your web browser. These are pretty basic things that everyone already have and so making free calls is as easy as using your traditional calling system but with a difference that former is free while the latter can charge you unbelievably high for your international calls.
Please wait while we are checking whether your call can be connected.
Technology has advanced to a point where you can make free calls to mobile from your PC, Mac or smartphone to any mobile phone number or a landline number worldwide using VOIP, i.e. Voice over IP technology. With this you can make free outgoing calls to any number. Moreover you need not share your account details, bank card details or any personal details to make these free calls and also no need of doing registrations and remembering passwords. The call connects using only your internet connection and web browser with flash player installed.
So what is the procedure for making free calls to mobile?
Get a Mac, PC or smartphone with internet connection active on it and web browser with Adobe Flash player 9.0 or above installed.
Go to the Ievaphone website and allow flash widget on its home page to load.
Choose the country from the list where you wish to make call to and enter the mobile number.
Press the call button to connect with your entered mobile number.
The time duration of your free call will be displayed there after which the call will get disconnected automatically.
Limitation on free calls?
The procedure for making free calls to mobile is fairly easy as you can see from above but this is not unlimited and calls have time limit on them. In order to prevent the abuse of this free call service and to avoid network congestion there are certain limitations with this free call service. Using this service you can only make four free calls in a day and once you have reached this limit you will have to wait for another 24 hours to use the service again. Also the calls have time limits on them and timing of calls is governed by the software which determines the duration based on the place you are dialling to. Once the time limit is over during the call, it will get automatically disconnected.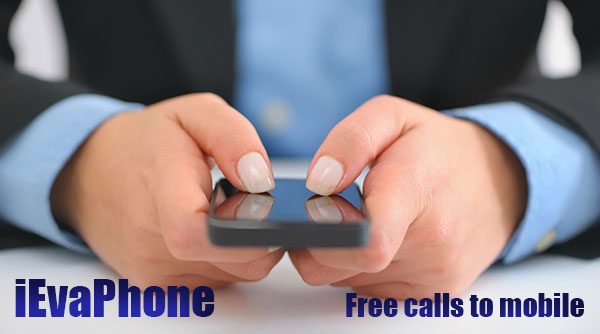 Though there is time limits on free calls to mobile but four free calls to any number worldwide everyday is not a bad idea after-all. Moreover neither you nor the recipient of the call have to pay anything for these calls as the service is absolutely free with no exception on this. The service Ievaphone at present offers only the free calls service and the paid version possibly will start in the future. So stop wasting money on costly international calls using the traditional call system and rather use Ievaphone, a free and reliable service to make free calls to any mobile or landline number worldwide with no hassle of any kind.