Free calls to Zambia
Please wait while we are checking whether your call can be connected.
When you are travelling abroad it is very expensive to make international calls. It is not only costly but also problematic. Now there are ways that have made these calls free and less problematic, one such method is through app which makes free calls to Zambia easy.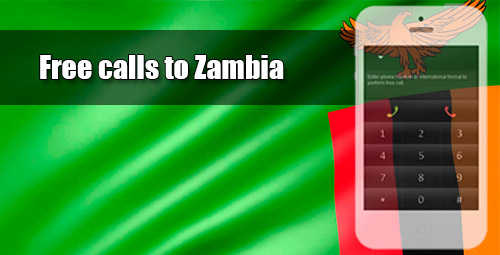 iEvaphone has come out with such an app that makes these calls free to anywhere in the world. It is really an amazing app. Neither you nor your peer has to pay a penny to make the calls. The app can be downloaded onto your mobile or PC and calls made at your will. It also gives credits instantly and also credits can be had later on by just watching some videos or by just installing certain applications. This helps you to save lot of money which can be used by you for other expenses. The technology used by this app is VoIP but as previously you had to pay, now it is free.
It may appear to your mind why to use this app to make calls, the reasons are many, let us see some.
This application is entirely free and reliable. It is difficult to find such a service and it cannot be compared to other service providers. There is no hidden cost and none have to pay anything. This makes it the chosen one of all.
It does not require you to register or provide any other details like that of credit card number. You just need to be on the site and dial the number in an international format and you are through. It does not require you to install any extra plug-in or applications to install before you make the call. It is easy to have the app also. You can have it from Google Play or App Store.
The call quality is marvelous. You will not be able to understand that you are making an international call. The voice quality of these free calls to Zambia is crystal clear and you will not have any problem in listening.
Another benefit of this service is that you do not require any new SIM or a new mobile. You can use your own hand set and SIM to make these calls. You can also create a caller id of yours that will be displayed when you make a call.
The features that iEvaphone offers are really unique and give you no chance to complain.
Zambia country and area codes
Zambia country code - (260)
Our website automatically inserts the country code when selecting the required country from the list.
Zambia area codes:
| | | | | | |
| --- | --- | --- | --- | --- | --- |
| Chingola | 21 2 | Kitwe | 21 2 | Mongu | 21 8 |
| Chipata | 21 6 | Livingstone | 21 3 | Mufulira | 21 2 |
| Kabwe | 21 5 | Luanshya | 21 2 | Ndola | 21 2 |
| Kafue | 21 1 | Lusaka | 21 1 | Petauke | 21 6 |
| Kasama | 21 4 | Mazabuka | 21 3 | Solwezi | 21 7 |