Free call to Sri Lanka
Please wait while we are checking whether your call can be connected.
Many a times, even when you try to save from your earnings, you end up spending more which causes a serious drain in your savings. Similarly whenever you try to travel to some place, it is always essential to manage within the set limit. It is because there are so many different type of expenses you have to bear whilst you travel.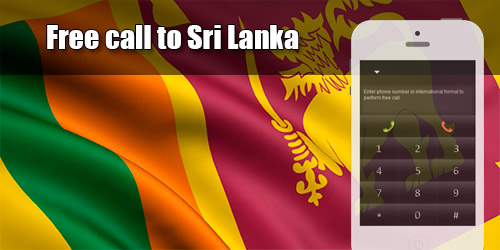 And then, as you're away from your home, you always have to be prepared for any Contingency as well. So this requires that you try to spend sensibly. Moreover, most of the tourist places charge extravagantly as well. Off lately, a lot of people have started visiting Sri Lanka. It's a beautiful place and has a lot of things to offer. The beaches in Sri Lanka are simply breath taking and they have a rich culture as well. Now whilst you're enjoying in this beautiful town, you still need to be in contact with your family or friends back home. In the same way, if you have family or friends in Sri Lanka and if you're trying to get in touch with them from your home; you can do it for free.
With the help of this website, it is possible to place free call to Sri Lanka and this is how you save money while you're at home. Also, if you're travelling in Sri Lanka, you don't need to buy those costly international calling cards or go to a telephone booth to call back home or within Sri Lanka as well. You just need a smartphone with an Internet connection and you can easily make free call to Sri Lanka.
How is this possible?
Yes, this is the question that you all want to know the answer to. You must be thinking how I can make free call to Sri Lanka without any hassle. Well the answer is quite simple and the answer is IEVAPHONE.com. Yes, this is solution to all your calling problems whether you're at home or whether you need to contact your family in Sri Lanka. IEVAPHONE.com makes it possible for you.
How does IEVAPHONE.com work?
Well, by now you must be wondering that there must be some catch in this and this service wouldn't be absolutely free. But let us tell you something, you're wrong if you're thinking this way. Allow us to explain how this works. Ievaphone.com is a website. You do not need to download any application for this. You simply need a gadget which has a microphone. It can be anything from a desktop to a tablet to a smartphone. Apart from this, the browser on your device should support adobe Flash player. And off course you need an Internet connection and we suggest using headphones for your own convenience.
That's it. This is how simple it is. You just need to open this website. On the website, you'll find a virtual dialer. Then, select the country you want to call and punch in the number you want to reach. And that's about it. You'll be able to call for free to any country in the world.
With such a simple procedure, as of now, there are a few limitations for this amazing service. You can only make specific number of calls and the number depends on the country you're calling from or the country you're calling to. However a premium version is on its way which will allow you to place unlimited free calls. So with the use of such an amazing website and its services, you can save up on your phone bills all the time. So use our service and make happy free calls to Sri Lanka.
Sri Lanka country and area codes
Sri Lanka country code - (94)
Our website automatically inserts the country code when selecting the required country from the list.
Sri Lanka area codes:
| State | Area code(s) | State | Area Code(s) | State | Area Code(s) |
| --- | --- | --- | --- | --- | --- |
| Ampara | 63 | Jaffna | 21 | Moneragala | 55 |
| Anuradhapura | 25 | Kalmunai | 67 | Moratuwa | 11 |
| Awissawella | 36 | Kalutara | 34 | Mount Lavinia | 11 |
| Badulla | 55 | Kandy | 81 | Nawalapitiya | 54 |
| Bandarawela | 57 | Kattankudy | 65 | Negombo | 31 |
| Batticaloa | 65 | Kegalle | 35 | Nuwara Eliya | 52 |
| Chilaw | 32 | Kelaniya | 11 | Panadura | 38 |
| Colombo | 11 | Kotte | 11 | Polonnaruwa | 27 |
| Galle | 91 | Kurunegala | 37 | Puttalam | 32 |
| Gampaha | 33 | Mannar | 23 | Ratnapura | 45 |
| Hambantota | 47 | Matale | 66 | Trincomalee | 26 |
| Hatton | 51 | Matara | 41 | Vavuniya | 24 |