Free calls to Barbados
Please wait while we are checking whether your call can be connected.
Every person loves travelling and many people love to wander around the world in several countries. Each individual knows that every international call made text sent/received or the least downloading done costs a lot than normal rates. The international rates are quite high and the telecommunication companies are there with their additional charges to rise them a little bit to increase the pain on the customers. Many people usually do not like to use the international calling rates and there are many countries also make revenue from the calls made and receive, which is also the reason for the high cost.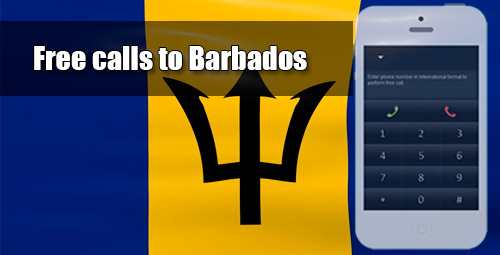 The worst part of any international vacation is the cellular bill that waits on the door. Several individuals just hate to look on the bill, as they know that the bill will be containing such an amount that is not expected at the current moment. Countless travelers know the pain of seeing the telco bill when back home waiting there to punch right in the face. Making an international call or SMS entirely depends on the country and the rate per minute charged them. The first blame of the bill is given to the foreign networks that worked with full dedication to make the bill to reach the amount.
Most of the people often look for alternatives that are available for calling other than the not so popular international call rates. In the midst of the options there is iEvaphone offering some entirely different and unique from usual calling. Through the services of the iEvaphone, a person can easily make free calls to Barbados without any trouble. The minimal requirement for using the service is the availability of internet connection as it helps in connecting the calls from one region to another.
There is a free service requiring no sort of registration and no amount is to be paid for using the service at the beginning. Visit the site for dialing the number and enjoy the interrupted call service with ease, when needed. Make free calls to Barbados and any other country without any trouble whenever you want to. However, there is a time limit on the calls and you can talk to a person on call only for the allotted time. The time limit differs from country to country and free service is accessible to all. Enjoy free international call when want to and stay close to people.
Barbados country code
Our website automatically inserts the country code when selecting the required country from the list.
Barbados country code - (1246)