/
Free calls to Argentina
Free calls to Argentina
Please wait while we are checking whether your call can be connected.
Are you looking for the facility that may enable you to make free International calling? Are you dreaming of making free calls to mobile of your relatives? Well, even a few decades ago, this kind of thought was something like dreaming in the daylight. But now, with the help of advanced level of technology, some special applications are out there to transform your dream into reality. With the help of free call services, you can now make free calls to Argentina, and talk to your dear ones without bothering about the phone bills, and call duration.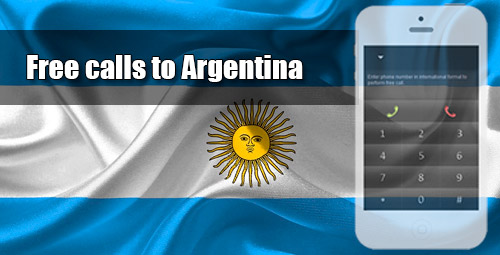 If you want to make frequent international calls to Argentina, the high phone call charges will create a deep hole in your pockets. And if you think of the call charges every time you dial the phone number, naturally you will hang up the phone after a few minutes. It will lead you to an unfinished and unsatisfying talk to your dear ones. But the free call service is something that will free you from the limitations of international phone calls; whenever you make free calls to Argentina, it will bring a smile on your face instead of worry.
You can enjoy this free calls service from your PC, Mac, or Smartphone. It's not like that you have to install some serious sort of hardware or software to activate this service. This service requires a few and very common tools, a high-speed internet service (Wi-Fi/3G/other broadband services), a headset with mic. The higher the speed of the internet connection you will have the better performance of the free call service you will enjoy. You don't need to bother about the voice clarity; your voice will be clear enough to be heard by the person on the other side of the call. This kind of service does not offer you to make calls to mobile numbers only; you can call to landline numbers too.
There are a lot of reputable companies are out there, offering their free call service to you, so that you can make free calls to Argentina. IEVAPHONE is one of such service providers offering their free call service to their customers. You don't need to register to their site or share your credit card information. There are no extra hidden charges for their service; you can call to any place on the earth for free.
Argentina country and area codes
Argentina country code - (54)
Our website automatically inserts the country code when selecting the required country from the list.
Argentina area codes:
| | | | | | |
| --- | --- | --- | --- | --- | --- |
| Buenos Aires | 11 | La Rioja | 380 | Salta | 387 |
| Bahia Blanca | 291 | Mar del Plata | 223 | San Juan | 264 |
| Catamarca | 383 | Mendoza | 261 | San Luis | 266 |
| Comodoro Rivadavia | 297 | Mercedes/Prov. B.A. | 2324 | San Nicolas | 336 |
| Concordia | 345 | Neuquen | 299 | San Rafael | 260 |
| Cordoba | 351 | Parana | 343 | Santa Fe | 342 |
| Corrientes | 379 | Posadas | 376 | Santiago del Estero | 385 |
| formosa | 370 | Resistencia | 362 | Santo Tome | 3756 |
| Jesus Maria | 3525 | Rio Cuarto | 358 | Tandil | 249 |
| La Plata | 221 | Rosario | 341 | Trelew | 280 |
Go to iEvaPhone.Com
Select Yemen from country list and enter phone number
Press Call button