Free calls to Kenya
Please wait while we are checking whether your call can be connected.
With every increasing inflation rates, the value of money is decreasing. Everyone who falls in the ambit of working middle class can testify about the ill-effects of inflation. With ever increasing bills and expenses, there should be some ways which can help us save some money. It gives us the kind of relief that helps us in making considerable amount of saving.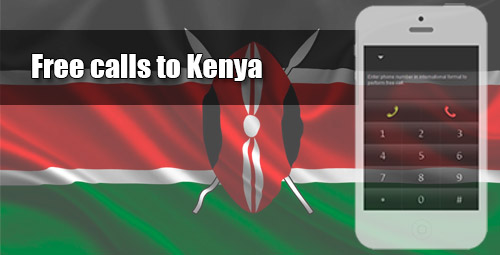 Most of the times, we have also observed that telephone bills can also drain your pocket. It can be a little expensive to maintain your bill plan and pay a fixed amount every month. Now, calling is definitely important and a lot of us have to use phones for work as well. In such a situation, it is really difficult to control our expense. So, to render an effective solution for this problem, we have ievaphone.com.
There is also an app which goes by the same name. The basic function of this service is that it lets us make free calls. Now, we know this sound too good to be true but it's a fact and numerous people around the globe are using this service. Suppose if you want to travel somewhere, now you won't have to bear with the international calling rates because using this service, you can make free international calls.
For people who have kin living in African countries like Kenya, they can now start making free calls to Kenya. It allows us to make free international calls using our phone. There is no need to have any special accessory as well. If you have earphone, well and good, else they are not really necessary.
The website is extremely easy to use. If you go over the website, you will find a dialler. You just have to select the country and dial the number with the country code. Make sure you have the info regarding the country code. Once you have entered the info, press the call button and voila, you start making free international calls.
The application can be installed in the phones. We recommend that you use 3G or Wi-Fi for placing calls through our service. Although not mandatory, a speedier internet connection works well. As of now, you are allowed to make 4 calls per day. This means, in a day, you can make 4 international free calls using Ievaphone.com or the app. The time limit per call depends on the country you are calling. It is not the same for everyone. In addition, there is no need to provide any kind of basic info about yourself or the bank account. It is completely free of charge. Now you can install the app and make free calls to Kenya or any other international destination. So start saving.
Kenya country and area codes
Kenya country code - (254)
Our website automatically inserts the country code when selecting the required country from the list.
Kenya area codes:
| | | | | | |
| --- | --- | --- | --- | --- | --- |
| Athi River | 45 | Kilifi | 41 | Mombasa | 41 |
| Bungoma | 55 | Kimilili | 55 | Mumias | 56 |
| Busia | 55 | Kisii | 58 | Nairobi | 20 |
| Eldoret | 53 | Kisumu | 57 | Naivasha | 50 |
| Embu | 68 | Kitale | 54 | Nakuru | 51 |
| Garissa | 46 | Limuru | 66 | Nanyuki | 62 |
| Gilgil | 50 | Lodwar | 54 | Narok | 50 |
| Isiolo | 64 | Machakos | 44 | Ngong | 45 |
| Kakamega | 56 | Malindi | 42 | Nyahururu | 65 |
| Karuri | 66 | Mandera | 46 | Nyeri | 61 |
| Kericho | 52 | Meru | 64 | Ruiru | 67 |
| Kiambu | 66 | Migori | 59 | Thika | 67 |
| Kikuyu | 66 | Molo | 51 | Ukunda/Diani | 40 |