/
Free calls to Netherlands
Free calls to Netherlands
Please wait while we are checking whether your call can be connected.
Netherlands is the most densely populated country of the world that is known to have interesting cities, nature that is preserved beautifully and varied landscape. The European country borders Germany from the east. All around the world, it is known that the people, language and culture of Netherlands are known as Dutch. The fields of blooming color it is filled with windmills scattered under the vast skies.The country gave some of the most skilled and important painters to the world.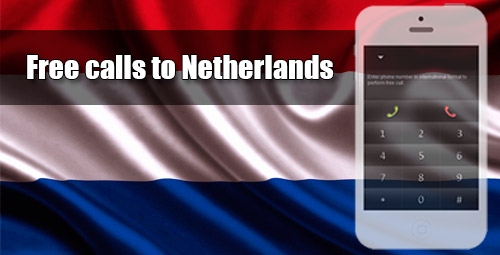 However, travelling comes with some extra and additional costs that makes the people to rethink about their foreign trip. In these extra costs, a major portion is taken up by the international calling plans and tariffs. These tariffs are costly and categorized according to their price. Each service providers does have their own list and products helping them to know about differentiated rates. By acknowledging the rates, they can easily choose among the offered plans with ease.
But, not everyone wants to use the international calling rates for communicating with other people. As a cheap alternative to international calls, there is iEvaphone. iEvaphone is a VoIP based service allowing you to make free calls to Netherlands and other country with ease. No sort of software installation is necessary or required to make the free calls whenever required.
Free calls to Netherlands are possible without any trouble on iEvaphone due to its simple interface. It is an application running on your browser requiring a desktop or a mobile device to make calls. For making effective and quality assured calls, it is important to make sure that your internet connection is fast and good. The service is entirely based on reliability, discreteness and affordability. Just you need to visit the official site of iEvaphone for using the services offered.
No sort of registration is required for utilizing the service. During the use of service, there will no questioning regarding your credit card to pay any amount whatsoever. iEvaphone is available on all big platforms and allows to make 4 calls in a day.
The call limit is there due to the restrictions made by the connected countries. The limit is renewed after the exhaustion of 24 hours to ensure availability of calls when needed. The site allows pays for the made calls that is also the reason of such low amount of calls available.
Netherlands country and area codes
Netherlands country code - (31)
Our website automatically inserts the country code when selecting the required country from the list.
Netherlands area codes:
| | | | | | |
| --- | --- | --- | --- | --- | --- |
| Alkmaar | 72 | Enschede | 53 | Nijmegen | 24 |
| Almelo | 546 | Gouda | 182 | Oss | 412 |
| Almere | 36 | Groningen | 50 | Purmerend | 299 |
| Alphen a/d Rijn | 172 | Haarlem | 23 | Roermond | 475 |
| Amersfoort | 33 | Hague (the) | 70 | Roosendaal | 165 |
| Amsterdam | 20 | Hardenberg | 523 | Rotterdam | 10 |
| Apeldoorn | 55 | Heerlen | 45 | Schiedam | 10 |
| Arnhem | 26 | Helmond | 492 | Sittard | 46 |
| Assen | 592 | Hengelo | 74 | Sneek | 515 |
| Bergen op Zoom | 164 | 's-Hertogenbosch | 73 | Spijkenisse | 181 |
| Breda | 76 | Hilversum | 35 | Terneuzen | 115 |
| Delft | 15 | Hoofddorp | 23 | Tilburg | 13 |
| Den Helder | 223 | Hoorn | 229 | Utrecht | 30 |
| Deventer | 570 | Leeuwarden | 58 | Venlo | 77 |
| Doetinchem | 314 | Katwijk | 71 | Vlaardingen | 10 |
| Dordrecht | 78 | Leiden | 71 | Wiesel | 55 |
| Drachten | 512 | Lelystad | 320 | Zaandam | 75 |
| Ede | 318 | Lisse | 252 | Zeist | 30 |
| Eindhoven | 40 | Maastricht | 43 | Zoetermeer | 79 |
| Emmen | 591 | Nieuwegein | 30 | Zwolle | 38 |