Free calls to Turkey
Please wait while we are checking whether your call can be connected.
Today, it is very common if someone have relative, friends or any family member living in different countries, for example Turkey or any other for studies, business purpose or any other. In this situation, contacting them is a necessary thing as well as a costly affair. Calling in Turkey from a far away country can cost you much per second. But, not to worry as a high-tech and revolutionary idea of making free calls to Turkey is available to save you from high call costs to make international calls.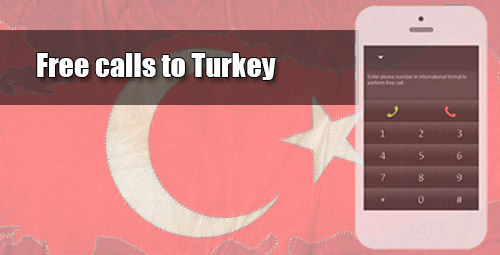 Best audio quality available
What is this idea? Today, a number of websites like ievaphone are available on the internet that offers free international calls. These websites use a special technology called VoIP that makes it possible to use such websites in order to make free calls worldwide. Through this tech savvy method one can save a lot on international calls as well as can talk to someone living in a far away country for long rather than cutting the call as soon as possible.
VoIP (voice over internet protocol) technology is a special kind of technology that makes free international calling possible through the internet. When we call through our regular mobile phones or landline phones then a phone line used to transfer our voice to make conversation possible over the phone. VoIP technology replaces the work of phone lines and used to transfer the voice through a digital method. How? When it receives your voice, it converts it into small pieces and makes your voice approachable to the recipient and then again converts these digital pieces into the normal voice. That is how one can make free calls to Turkey using this technology.
You can simply avail this service through your internet connection. A computer system and microphone is required to use this technology for making free international calls. You simply need to go to the ievaphone.com, have to select the country code of Turkey on the digital phone available on this website and have to dial that person's number and click the green sign of calling. After a few seconds you will get connected to that person without even realizing him/her the method you are using to call them.
A computer system with internet connection is not only the way to avail this method as you can even use your smart phone having internet connection to make free calls to Turkey and many other countries. You can make calls through this technology via your computer to mobile, mobile to mobile and computer or mobile to someone's landline. You will not feel any difference between callings through your regular phones or through this internet technology; rather it will make your conversation more effective and long one.
This type of technology can prove beneficial for both personal and professional use. For business, it is required to have a good telephonic conversation and this technology can help you in the same by cutting the cost of making international calls from any country to any other country.
Turkey country and area codes
Turkey country code - (90)
Our website automatically inserts the country code when selecting the required country from the list.
Turkey area codes:
| | | | | | |
| --- | --- | --- | --- | --- | --- |
| Adana | 322 | Denizli | 258 | Kirikkale | 312 |
| Adiyaman | 416 | Diyarbakir | 412 | Konya | 332 |
| Afyon | 272 | Edirne | 284 | Kutahya | 274 |
| Agri | 472 | Elazig | 424 | Malatya | 422 |
| Aksaray | 382 | Erzurum | 442 | Manisa | 236 |
| Amasya | 358 | Eskisehir | 222 | Mardin | 482 |
| Ankara | 312 | Gaziantep | 342 | Ordu | 452 |
| Antalya | 242 | Isparta | 246 | Samsun | 362 |
| Aydin | 256 | Istanbul | 212, 216 | Sanli Urfa | 414 |
| Balikesir | 266 | Izmir | 232 | Sivas | 346 |
| Batman | 488 | Karaman | 338 | Trabzon | 462 |
| Bursa | 224 | Kastamonu | 366 | Usak | 276 |
| Corum | 364 | Kayseri | 352 | Van | 432 |