Free call to Thailand
Please wait while we are checking whether your call can be connected.
Thailand is one of the most famous tourists' destinations in the world. Every single year, a huge number of people visit this place because of the kind of landscapes it offers. It is also an excellent party place and this is one of the primary reasons of people visiting this place from all parts of the world. In addition, it is a good place to conduct business as well because a lot of industrial houses have been set up within the vicinity. In such a scenario, it is obvious that every single year, a lot of people will be visiting this place. Whilst some will be visiting for pleasure and fun, others might visit for the purpose of their work. Whatever the situation, it can get a little costly to contact someone who is present here. But what if you can make free call to Thailand to your loved ones or even for the purpose of your work?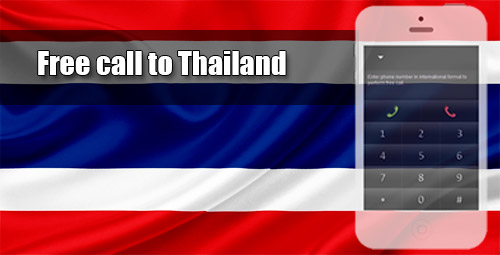 With iEvaphone, you can place international calls to Thailand without worrying about the bills. It does not matter if you trying to reach a loved one or making a business call. In both the cases, you end up saving a lot of money which is extremely imperative. The reason being, every single year, the inflation rates are increasing and even the basic necessities are getting more expensive. The value for the money is decreasing with every passing year. In such a scenario, a middle income group family suffers a lot because there is usually no extra income to support those unforeseen expenses. Making international calls is one such expense which can disturb the entire flow of cash within the household. But with the help of ievaphone, this can be controlled. As you can make free call to Thailand, you will not have to modify your budget for your mobile bills.
In addition to this, the working is also simple and does not involve completion of any complicated procedures. To start calling through ievaphone, all you need is phone, tablet or a computer and you are good to go. Open the website and find the virtual dialler. Select the country you want to reach and punch in the desired number. A speedy Wi-Fi connection is recommended along with a pair of headphones for better sound clarity. However, they are not compulsory and even if you are using a 3G connection, you can place international calls without any hassle. With minimal equipment and resources, you can make free call to Thailand and other selected international destinations as well.
With most of the so called companies that offer free calling services, there is always a catch. Means there are always some hidden terms and conditions which have to be followed and accepted before making free calling. Some websites also ask for your credit or debit card details in order to accommodate cheap calling but ievaphone is completely different as it does not need and kind of registration to start making free calls. The working of iEvaphone is extremely transparent and there are no hidden charges.
Thailand country and area codes
Thailand country code - (66)
Our website automatically inserts the country code when selecting the required country from the list.
Starting digits for main cities:
Bangkok: 2
Chiang Mai: 52, 53
Chon Buri: 33, 38
Hat Yai: 74
Lampang: 54
Nakhon Ratchasima: 44
Nonthaburi: 2
Samut Prakan: 2
Udon Thani: 42