/
Free calls to Venezuela
Free calls to Venezuela
Please wait while we are checking whether your call can be connected.
Communication is important in anybody's life as it helps in understanding the other person. There are many benefits of communicating, as it is the base of all relationships. The importance of communication cannot be underestimated as the plays a vital role in everybody's life. Phone calls are a great way of communicating with one another and allow a person to pour their heart out while talking.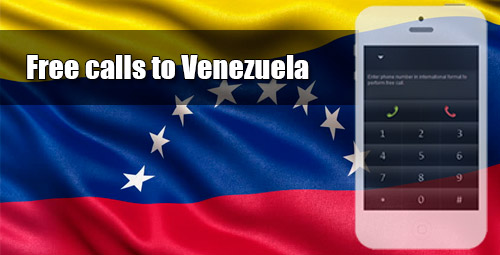 Text messages cannot replace the value of phone call. A simple message cannot change the feeling that is experienced by when we wish a person while talking on phone. Talking on phone is more special and worthy than messaging the people or person. However, calling is not affordable when it comes to international calling. International calling is expensive and the call tariff plans are costly than normal calls. Due to the present call rates, a person often hesitates to make calls to wish and congratulate someone when they live far away.
Nevertheless, thanks to the ever-changing technology and continuous evolution, the cost of international calls can be reduced. iEvaphone is a service and VoIP app that allows the person to make free calls to Venezuela and to any other country. It ensures that you save a lot on your telephone bills and talk with ease whenever you want to. Begin the international calling at almost nothing and at the ease that will make you addicted to it. There are no shrouded charges and troubles in signing or joining the site for using the service when you want it the most.
Making free calls to Venezuela and any other nation is quite easy with iEvaphone. Saving money is not easy when international calling, but the service allows you to do so. There are no hidden charges present with iEvaphone for the free calls as the site do not asks any credit card information. Nothing more than just a good internet connection and browser is needed for using the service. You need to keep handy the country code and the number of the person whenever you go to the site.
Even if you do not remember the country code then you can see them in the site. Making free calls makes a huge difference and allows the person to talk more than they are allowed with ease. Currently, the site allows you to make four calls with the offered service of iEvaphone. The main purpose and mission of the service to bring the smile on the face of the users while offering them.
iEvaphone is a unique way of maintaining connection with people and your close ones at a cost that is almost free. No need to worry about the price of calls.
Venezuela country and area codes
Venezuela country code - (58)
Our website automatically inserts the country code when selecting the required country from the list.
Venezuela area codes:
| | | | | | |
| --- | --- | --- | --- | --- | --- |
| Acarigua | 255 | Ciudad Bolivar | 285 | Maracay | 243 |
| Anaco | 282 | Ciudad Guayana | 286 | Maturin | 291 |
| Barcelona | 281 | Coro | 268 | Merida | 274 |
| Barinas | 274 | Cua | 239 | Ocumare del Tuy | 239 |
| Barquisimeto | 251 | Cumana | 293 | Palo Negro | 243 |
| Baruta | 212 | El Tigre | 283 | Petare | 212 |
| Cabimas | 279 | El Vigia | 275 | Puerto Cabello | 259 |
| Cabudare | 251 | Guacara | 245 | Puerto La Cruz | 281 |
| Cagua | 244 | Guanare | 272 | Punto Fijo | 269 |
| Calabozo | 246 | Guarenas | 236 | San Cristobal | 276 |
| Caracas | 212 | Guatire | 236 | Santa Teresa | 239 |
| Carupano | 294 | Los Teques | 232 | Turmero | 244 |
| Charallave | 239 | Maracaibo | 261 | Valencia | 241 |