Free calls to Dominica
Please wait while we are checking whether your call can be connected.
Dominica is often stated as the nature island due to inheriting the essential Caribbean features. Preserving their culture and ensuring the beauty is spotless, it is great place to encounter the adventure and discover the natural beauty. Explore the mountains covered with tropical forests and see the tremendous experience that it contains for you. Walk on the white sand beach of Dominica to encounter the greatness present.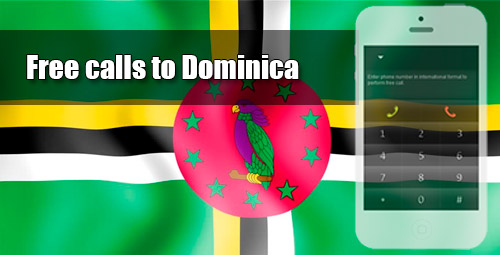 Along with travelling, many other expenses are to be encountered to make it free from any trouble. Among all these expenses, the highest and costly one is communicating with others. The main means of communicating with others is through the help of international calls. Prices charged for the international calls is always relatively higher than normal calls. Due to his or her high prices, not every person is able to choose or access them when required most.
The arrival of internet has made several things to become handy and more useful than many people thought. Everything is now easily a click away. Through the help of internet, many things are possible among them is communication. From the sites like iEvaphone, you can easily make free calls to Dominica without any trouble.
iEvaphone ensures that you are able to make calls anywhere when the need arises. There are no charges asked for making the free calls to Dominica or any other region through the services. With the free service of iEvaphone, you can connect with your loved ones regardless of the cost incurred. No need to register for the calls made to the local or international places.
In comparison to the international calls offered by carriers, our services are much cheaper and easy to use. Whether you are travelling or sitting in your home, you can easily use our services on the go through your browser without any trouble. In order to avoid any sort of congestion on the network, there are only 4 calls offered in a day to ensure you are able to talk to all.
Our services are quite better than the competition present as we are committed in fulfilling your demands and expectations. You can easily encounter the change and benefits by using the service offered by iEvaphone to communicate with people easily despite the geographical bounds. No need to worry about call cost with iEvaphone and the services available at your disposal.
iEvaphone has come out with this unique app that makes this possible. Yes, free international calls to anywhere in the world. It is free and you do not require knowing any black magic to do that. You just need to have a phone or a PC to make this happen.
What you have to do to make this free call. You have just to download this app onto your mobile or PC and you are ready to make the call. You just have to dial the number in an international format and you are through. As you install the app you are given credit points which can be used to make calls. You can further have credit by just watching some videos or by installing some application. Isn't it amazing?
The calls are absolutely free. Nobody has to pay anything towards making the call. You may be thinking that as it is free the call quality will be horrible. No, you are absolutely wrong. The voice quality is such that you will not understand that you are making an international call. The voice will be crystal clear and it does not take time to connect. As you dial the number you are connected and will be able to talk to your loved ones.
Dominica country code
Dominica country code - (1 767)
Our website automatically inserts the country code when selecting the required country from the list.