Free calls to Syria
Please wait while we are checking whether your call can be connected.
Syria is officially a country lying in the Western Asia. With a population of 22.85 million people, it is a place of fertile plains, high mountains and deserts. Known for its warm hospitality and timeless tradition, the country is currently a war place due to ongoing civil war. The war is consuming the place with each passing day and worsening the circumstances for the people living over there currently.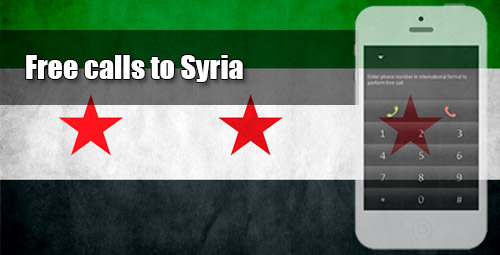 Due to the war, many times proper communication is also affected making the people to lose connection with their loved ones. The communication in the current period is important to know about the safety of the people living there under the influence of war. Because of constant effects on the communication in Syria, you can trust the services of iEvaphone. We give you almost free calls to Syria whenever you need it to talk to your loved ones.
It is not easy to know about the people living in Syria all the time, but iEvaphone you can easily decrease these chances. Free calls to Syria can help you a lot and is beneficial in many possible ways. Just by choosing the service, you can be more close to the people in Syria with less effort encountered in the process. There is no need to worry about the additional charges that many similar service-providing sites charge or ask for their services.
You just need a good internet connection in order to connect with the people. Making free calls anywhere is not easy due to high prices of the international carriers. Through iEvaphone, you can get this possibility with ease. Enjoy free international phone calls in order to stay connected with your people for knowing their well-being. Just visit the site for dialing the number of the person and talk to them. Enjoy the service through the quick access to make free calls.
There is no hidden charges present while using the service. Stay connected with the innovative web application. There are only 4 calls offered to the person that can be made internationally. After 24 hours, the person can easily use the service for making the calls in the same way they were using it earlier. Don't wait, just go to the site for making the free calls to any person with ease whenever you want to.
Syria country and area codes
Syria country code - (963)
Our website automatically inserts the country code when selecting the required country from the list.
Syria area codes:
| | | | | | |
| --- | --- | --- | --- | --- | --- |
| Aleppo | 21 | Deir Ezzour | 51 | Palmyra | 34 |
| Al Hasakah | 52 | Edleb | 23 | Quneitra | 14 |
| Al Rakkah | 22 | Hama | 33 | Swedaa | 16 |
| Damascus | 11 | Homs | 31 | Tartous | 43 |
| Dara | 15 | Lattakia | 41 | | |