Free calls to Ecuador
Please wait while we are checking whether your call can be connected.
Ecuador is located in the western corner at the top of South American continent containing the diverse landscape along with Amazon jungle. Despite being the smallest country in South America, it contains a population of 14,573,101. The country gets its name from the imaginary line around the Earth dividing the country in two halves. Many people go to the country to encounter the magnificent marine wildlife and invite the people who want to experience adventure on high.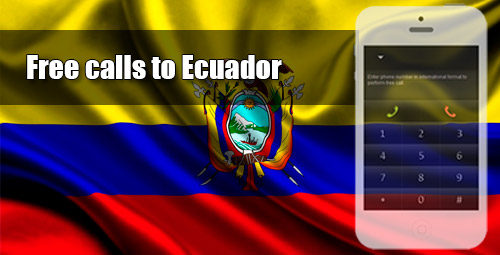 It is a great country offering opportunities to all people around the world. Considered as one of the most diverse areas of the world, not all are able to communicate easily with others. Global roaming is going expensively crazy and many people get to know about the cost nature after they use it. Prices of the international calls are so high that most people utilize it when there is a great emergency. The international call services make people encounter more trouble in comparison to the benefits it poses. The rates of the international calls vary with country and usage making the person to do a deep research before making a call.
Every person has to plan the cost that he or she will have to pay for making the calls to another country like Ecuador. However, to save yourself from the troubles of international calling, you can use the services of iEvaphone. Use iEvaphone to make free calls to Ecuador without any trouble. The site works as an online tool allowing the people to do free calls to Ecuador without any extra effort. No sort of registration is to be paid for using the service whenever the need is.
The least requirement for making free calls to Ecuador or to any other country is the quality and speed of internet. In order to avoid any sort of trouble or network congestion, only 4 calls are allowed to be made in a day. For making more calls, the person has to wait for 24 hours after exceeding the limit to use the service for free calls.
Time limit of a call is mainly depends upon the area where you have called and after the time limit ends, the call will end automatically. Talk endlessly and without any trouble internationally without your internet browser through the services offered by iEvaphone for all.
Ecuador country and area codes
Ecuador country code - (593)
Our website automatically inserts the country code when selecting the required country from the list.
Ecuador area codes:
| | | | | | |
| --- | --- | --- | --- | --- | --- |
| Ambato | 3 | Ibarra | 6 | Portoviejo | 5 |
| Babahoyo | 5 | Jipijapa | 5 | Puerto Francisco de Orellana | 6 |
| Buena Fe (San Jacinto) | 5 | La Libertad | 4 | Quevedo | 5 |
| Cayambe | 2 | La Troncal | 7 | Quito | 2 |
| Chone | 5 | Latacunga | 3 | Riobamba | 3 |
| Cuenca | 7 | Loja | 7 | Samborondon | 4 |
| Daule | 4 | Machala | 7 | Sangolqui | 2 |
| El Carmen | 5 | Manta | 5 | Santa Elena | 4 |
| El Triunfo | 4 | Milagro | 4 | Santa Rosa | 7 |
| Eloy Alfaro | 4 | Montecristi | 5 | Santo Domingo de los Colorados | 2 |
| Esmeraldas | 6 | Nueva Loja | 6 | Tulcan | 6 |
| Guayaquil | 4 | Otavalo | 6 | Velasco Ibarra | 4 |
| Huaquillas | 7 | Pasaje | 7 | Ventanas | 5 |