Cheap calls to Poland
Please wait while we are checking whether your call can be connected.
Let`s assume that you live in a far land from Poland and your relatives live in Poland and that you want to talk to them. But the problem is high rates of international calls that are not so easy to afford especially when you want to talk till your hearts fill. So what can be done now? Well the answer is simple and you can find it very easily on the internet. Internet is the home for several services and one such service is making cheap international calls. Several websites offer cheap international calls where you only have to pay for a certain access number you will be given via which you can make these calls.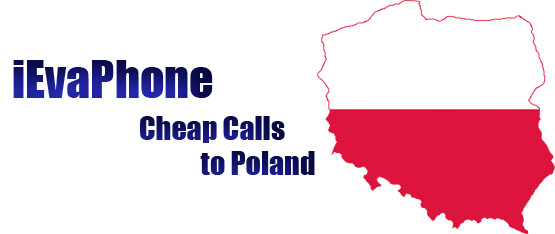 How to make cheap calls to Poland?
Several websites offer the service of making cheap calls internationally. IEvaPhone is one of the few that allow cheap calls to many countries of the world. Our website allow you to make cheap calls to Poland so that you may talk longer to your friends and relatives using their cheap call rates. Simply you need to dial the Poland's access number and then along with the country code dial the number you want to make call to and you are good to go.
So what makes it so cheap?
Since when you make calls using your mobile phone then the international call charges are little too expensive but using the access number you are charged only for making call to the cheap access numbers you get from these websites. So your mobile service provider will only charge for making call to the access number, that is very cheap and through this access number you can call any number of Poland and enjoy the unlimited talking with your friends and relatives at absolutely no cost afterwards. So instead of calling directly using your service provider which is expensive you can call via free access numbers available on iEvaPhone website which will be as absolutely free to any mobile phone numbers.
With this method using the online cheap calls to Poland you can save up to 90% of the charges of making call using normal landline numbers or your mobile service providers. Moreover these services do not require any kind of registration, account or card details as the call to access number you make is charged by your own service provider and not by these websites. Also note that the rates displayed on the websites may vary according to some service providers so first do check about the rates and then only go for making calls using their access codes.
So if you have to make call to your friend for wishing him birthday, or your relatives for wishing them happy Christmas or you want to make an urgent call to your business associates in Poland, this all can be done using this call service to Poland at an astonishing cheap call rates. So get smart and stop compromising your mobile and landline balance in such international calls.