/
/
Cheap calls to Poland mobile
Cheap calls to Poland mobile
Please wait while we are checking whether your call can be connected.
Problem with talking to your long distant living relatives and friends is the high cost of the international calls. Not everyone can afford such high rates and even if they do so then it is just for a very short duration or so. So is there any solution to this problem or internet chatting is the only fix for this? Well the answer is yes, there is a solution and a very affordable one. If you do some research on internet then you will find not one but many such services that offer very cheap calls to Poland mobile where you only have to pay a little sum for an access number via which you can make calls to mobile phones in Poland and stay in touch with your loved ones settled there. So how this services works? Well read below to know more about it.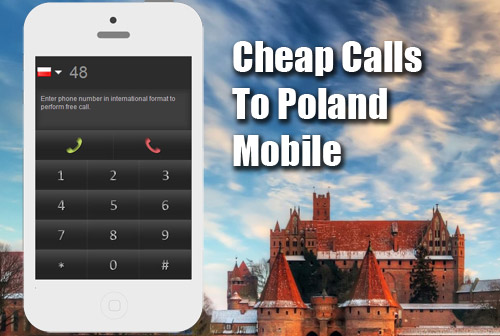 Cheap calls service to Poland mobile
There are several websites on internet that offer service for making cheap international calls and that includes cheap calls to Poland mobile. These websites allow to make cheap calls using their cheap call rates and all you do is to dial Poland's access number and via this access number along with the country code dial the Poland mobile phone number you wish to make call to and that is all. You will be connected to your desired number and you can talk to your friends and relatives as long as your heart desires without worrying about the hefty call rates otherwise. One of the notable websites that offer such services is iEvahone and on your search you can find that it is the best among all on the internet. On iEvaphone you may make free calls to Poland mobile, please read FAQ and "how to use" and using the phone on main page you may make free call.
Why are these calls cheaper than the normal international calls?
The calls you make using these online services are cheaper because here you are charged only for making calls to the access number that you get from these websites which is very cheap unlike the normal call rates of making international calls. So when you make cheap calls to Poland mobile via these access number then your mobile service provider charges only for the call you make to the access number. Afterwards you can dial any mobile phone to Poland and the call will be absolutely free when connected via this access number. So you can enjoy unlimited talking to your friends and relatives. This method can save you a lot of money as these calls via access number can be quite cheap for any mobile phone call to Poland which is close to a free call.
This method of making cheap calls to Poland can save you up to 90% of the call cost using your regular mobile service provider. And in addition to their cheap rates these calls and services do not require any kind of special registration or account or care details to begin with. The call you are charged for is charged by your service provider and not by the website and so no such registration is required and all you need to do is check the call rate for your service provider, get the access number and make calls.