/
Free calls to Kyrgyzstan
Free calls to Kyrgyzstan
Please wait while we are checking whether your call can be connected.
High rated International call charges won't sting you anymore. For, iEvaphone has introduced their cheap and free call service to the people who are living abroad and frequently need to call their family and loved ones in Kyrgyzstan.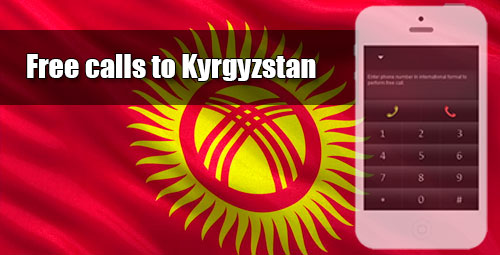 With this free call service, one can now place 4 calls/day, anytime within 24 hours. But, as all free services come with a certain limitation, this free call service has also its own limitation. There's a limitation of the duration of time for each call you make. But, without installing any hardware or software, and sharing credit card details, it is a convenient way to make free calls to Kyrgyzstan.
Kyrgyzstan country and area codes
Kyrgyzstan country code - (996)
Kyrgyzstan area codes:
| | | | | | |
| --- | --- | --- | --- | --- | --- |
| Espoo | 9 | Kotka | 5 | Rauma | 2 |
| Hameenlinna | 3 | Kouvola | 5 | Riihimaki | 3 |
| Helsinki | 9 | Kuopio | 17 | Rovaniemi | 16 |
| Hyvinkaa | 19 | Lahti | 3 | Salo | 2 |
| Imatra | 5 | Lappeenranta | 5 | Savonlinna | 15 |
| Jarvenpaa | 9 | Lohja | 19 | Seinajoki | 6 |
| Joensuu | 13 | Mikkeli | 15 | Tampere | 3 |
| Jyvaskyla | 14 | Nokia | 3 | Turku | 2 |
| Kaarina | 2 | Nurmijarvi | 9 | Tuusula | 9 |
| Kajaani | 8 | Oulu | 8 | Vaasa | 6 |
| Kangasala | 3 | Pori | 2 | Vantaa | 9 |
| Kerava | 9 | Porvoo | 19 | Vihti | 9 |
| Kirkkonummi | 9 | Raisio | 2 | Ylojarvi | 3 |
3 easy steps to make free calls to Kyrgyzstan
Go to iEvaPhone.Com
Select Kyrgyzstan from country list and enter phone number
Press Call button