/
Free calls to Switzerland
Free calls to Switzerland
Please wait while we are checking whether your call can be connected.
In this era, it is very common to have friends in faraway nations. It is also a common thing if one member of a family is settled in another country like Switzerland. In this case staying connected with them becomes inevitable, but chats and messages are not that meaningful to know the status of the person and making international calls is a costly affair.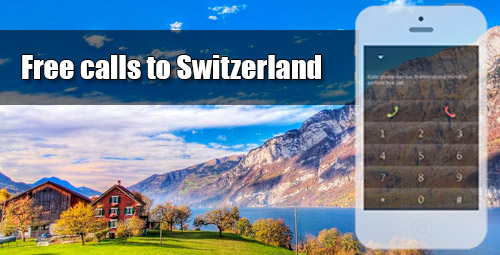 Making international calls is a costly affair only if calls are being made through the regular landline or mobile phone. Yes, people still assume that the telephone or mobile is the only resource to make calls and if they want to make an international call, then they have to get ready to spend much more. However, all this is just a myth. You don`t always need to use your mobile or landline to make a call as you can make calls through the internet as well. Moreover, making free calls to Switzerland and many other nations is possible through the web.
How it is possible to make international calls that too free through the internet? All this is possible through a technology called VoIP. VoIP (voice over internet protocol) is an advanced technology that has successfully substituted the operation of regular phone lines. It is not less than a wonder for those who want to make international calls more than often, but the call rates allow them to make very limited calls. In fact, sometimes people used to make international calls to share the most important stuff that too in a hurried way. This is because they are not aware with the advanced level of technology.
Today`s advanced technologies are making several things possible, convenient and cost-effective and VoIP technology is one of those advanced technology that has made international calling a cost-effective affair. You can make unlimited free calls to Switzerland using this VoIP technology. What exactly VoIP technology is and how one can make use of it? Voice over internet protocol (VoIP) as its name suggested is a technology that makes it possible for people to have a word to word conversation through the web.
One can easily make use of this technology using two simple resources such as, a computer system and the internet connection with good bandwidth. After collecting these two resources, all you have to do is to find one good VoIP based website on the internet. However, there are many sites as such. After searching a good one you have to follow their simple procedure to make free international calls.
Subsequently, stop using your regular phones to make international calls and spending much on special call cards and purchasing extra balance. Simply learn the correct your internet connection and make the most of it by making unlimited free calls to Switzerland.
It is one best and convenient way to make international calls more often that too in a convenient and affordable manner. Furthermore, one can talk for long by calling through the internet.
Switzerland country and area codes
Switzerland country code - (41)
Our website automatically inserts the country code when selecting the required country from the list.
Switzerland area codes:
| | | | | | |
| --- | --- | --- | --- | --- | --- |
| Aigle | 24 | Fribourg | 26 | Rapperswil | 55 |
| Baden | 56 | Geneva | 22 | Sion | 27 |
| Basel | 61 | Jura | 32 | Soleure | 32 |
| Bellinzona | 91 | Langnau | 34 | St. Gallen | 71 |
| Berne | 31 | Lausanne | 21 | Thun | 33 |
| Bienne | 32 | Lucerne | 41 | Winterthur | 52 |
| Burgdorf | 34 | Neuchatel | 32 | Yverdon | 24 |
| Chur | 81 | Olten | 62 | Zurich | 43, 44 |