Free calls to Ukraine
Please wait while we are checking whether your call can be connected.
Bordered by Russia to the east and North East, Ukraine is entirely the largest country within Europe with a population of approx. 45 million. Every single year, there are a lot of people shifting into this country. For obvious reasons, it gets difficult for the people to contact their loved ones who are residing here, the primary reason being the exorbitant costs of placing calls to international destinations. Telecom operators have always tried to cash in on the basic needs of the people in terms of calling but this is not going to be situation for long now. Thanks to ievaphone, you can make free calls to international destinations. And if you have a loved one who is living in Ukraine, you can use ievaphone website or app to make free calls to Ukraine. This will help you save a lot in terms of your phone bills and you can use the saved money for other important tasks.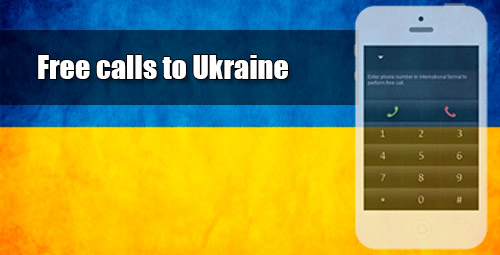 Off late, inflation has been undergoing a steady increase over the years which have made things difficult for a lot of people. Especially, the middle income group has been suffering a lot due to their fixed incomes and expenses routine. A little extra expense during the week easily disturbs the flow for the entire month. Placing international calls to a country like Ukraine or any other international destination is just the extra expense which can hamper the cash flow routine. So, in such a situation, ievaphone is an excellent solution for saving on those extra expenses and making the most out of the same. Making free calls to Ukraine gives you the flexibility of using money for different purposes. In a situation where with every passing year, value of money is deteriorating, it is essential to save wherever you can.
When we talk about ievaphone, it is simply perfect because you do not need to register or create an account. Other apps and websites compel you to register in order to use their free services. Some websites also intend to store your debit or card information in order to have a premium user. All these companies are not trustworthy and can easily charge your bank accounts if they want to. But this is just not the case with iEvaphone because their working is extremely transparent and nothing fishy goes on behind the scenes. All the users have genuinely appreciated the services rendered by this website. As of now, you do not have access to make long international calls and there is specific number (4) of calls you can make throughout the day but this is way more than what other companies offer. Comparatively, it is easily the best deal out there for making free calls to Ukraine.
The overall working is also simple and does not require any complex procedure to be completed. You can access the website with the help of a smartphone, tab or a computer and if possible, try and keep a pair of headphones. It does not matter if you are not using wi-fi because a 3G connection will work just fine. So, what are you waiting for?
Ukraine country and area codes
Ukraine country code - (380)
Our website automatically inserts the country code when selecting the required country from the list.
Ukraine area codes:
| | | | | | |
| --- | --- | --- | --- | --- | --- |
| Alchevsk | 6442 | Kiev | 44 | Nikopol | 566(2) |
| Berdyansk | 6153 | Kiev Region | 45 | Odessa | 48(2) |
| Bila Tserkva | 4563 | Kirovohrad | 522 | Pavlohrad | 563(2) |
| Cherkasy | 472 | Konotop | 5447 | Poltava | 532(2) |
| Chernihiv | 462(2) | Kramatorsk | 626(4) | Rivne | 362(2) |
| Chernivtsi | 372(2) | Kremenchuk | 536(6) | Sevastopol | 692 |
| Dniprodzerzhynsk | 569(2) | Kryvyi Rih | 56(4) | Severodonetsk | 6452 |
| Dnipropetrovsk | 56(2) | Luhansk | 642 | Simferopol | 652 |
| Donetsk | 62 | Lutsk | 332(2) | Sloviansk | 626(2) |
| Horlivka | 624(2) | Lysychansk | 6451 | Sumy | 542 |
| Ivano-Frankivsk | 342(2) | Lviv | 32(2) | Ternopil | 352 |
| Kerch | 6561 | Makiivka | 623(2) | Uzhhorod | 312(2) |
| Kharkiv | 57(2) | Mariupol | 629 | Vinnytsia | 432 |
| Kherson | 552 | Melitopol | 619(2) | Zaporizhia | 61(2) |
| Khmelnytskyi | 382(2) | Mykolaiv | 51(2) | Zhytomyr | 412 |