Please wait while we are checking whether your call can be connected.
Free calls to India
India is a place of cultural and ecological diversity. India has climbing the ladders in the business world with unprecedented pace. This means many Indians are now living or traveling abroad for their business trips, this means more and more people now need to get in touch with their friends and family living in India. Even if we remove the business travel more Indians are active tourists, and making calls to India remains high on their To Do list.
Travelling abroad can be quite expensive, if you add international calling charges with the frequent calls it will make a big hole in your pocket. Without managing your expenses you travelling or even business trip can hurt your budget.
So, is it possible to make free calls to India?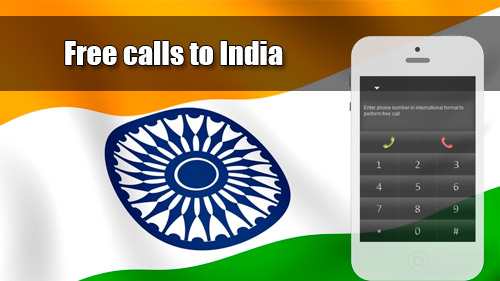 There are many ways that can help you to make cheap or free calls to India, you can use a VoIP service to make calls. VoIP or Voice over Internet Protocol allows users to make cheap or even free calls using their computer and internet connection. There are many service providers that allow users to make calls using their computer.
A VoIP service allows you to make free calls to India by using your computer to call another computer. This service is free with most of the providers and allows you to make calls anywhere across the globe. The only problem with these calls is that they depend upon the internet connection at both the ends. This means you need active high speed internet connection at both receiving and calling ends. Both the person needs to have a computer with the specific program installed along with other accessories like headphone and mic. Some services also allow customers to make calls from their computer to mobile phone or landline across the globe. The services are although not free but are very cheap when compared to the traditional phone bills. Even if you consider the data charges along with the call rates, they are still way cheaper than any traditional calling method.
iEvaphone is one such service that allow users to make free calls to India. iEvaphone allows users to make up to 4 free calls per day. These calls are actually time limited, the time for each call is governed by the country you are making the call to.
How can I use the service?
You don't need any extra hardware or software for using iEvaphone. The service uses your internet browser for making calls. All you need is a computer with high speed internet connection, headphone with mic, a browser that supports adobe flash player. Most of the browser does support flash player so, that is not an issue.
To use the service all you need to do is to visit their website. There is a phone widget, just select the country for calling from the drop down and enter the number to which you want to make the call. Once you have entered the number along with the country code, click on the dial button. Once you click on the dial button your free call will be connect.
The service is absolutely free and iEvaphone will never ask you to fill any silly forms to know more about you. Nor it will flood your email id with spams. You don't even need to install any third party application to use the service, thus minimising the chances of malware or spyware. It's reliable, robust and completely free. This makes it one of the best VoIP service available on the internet. So, what are you waiting for? Just dial the number connect to your loved ones.
India country and area codes
India country code - 91
Our website automatically inserts the country code when selecting the required country from the list.
India area codes:
| | | | | | |
| --- | --- | --- | --- | --- | --- |
| Agra | 562 | Ghaziabad | 120 | Mysore | 821 |
| Ahmadabad | 79 | Gorakhpur | 551 | Mumbai | 22 |
| Aligarh | 571 | Guntur | 863 | Nagpur | 712 |
| Allahabad | 532 | Gurgaon | 124 | Nasik | 253 |
| Amravati | 721 | Guwahati | 361 | Noida | 120 |
| Amritsar | 183 | Gwalior | 751 | Patna | 612 |
| Asansol | 341 | Hubli-Dharwad | 836 | Puducherry | 413 |
| Aurangabad | 240 | Hyderabad | 40 | Pune | 20 |
| Bangalore | 80 | Indore | 731 | Raipur | 771 |
| Bareilly | 581 | Jabalpur | 761 | Rajkot | 281 |
| Belgaum | 831 | Jaipur | 141 | Ranchi | 651 |
| Bhavnagar | 278 | Jalandhar | 181 | Saharanpur | 132 |
| Bhilai | 788 | Jammu | 191 | Salem | 427 |
| Bhiwandi | 2522 | Kannur | 497 | Siliguri | 353 |
| Bhopal | 755 | Jamshedpur | 657 | Solapur | 217 |
| Bhubaneswar | 674 | Jodhpur | 291 | Srinagar | 194 |
| Bikaner | 151 | Kanpur | 512 | Surat | 261 |
| Calcutta | 33 | Kochi | 484 | Thrissur | 487 |
| Calicut | 495 | Kollam (Quilon) | 474 | Tiruchirappalli (Trichy) | 431 |
| Chandigarh | 172 | Kota | 744 | Tiruppur | 421 |
| Coimbatore | 422 | Lucknow | 522 | Trivandrum | 471 |
| Cuttack | 671 | Ludhiana | 161 | Vadodara | 265 |
| Dehradun | 135 | Madurai | 452 | Varanasi | 542 |
| Delhi | 11 | Malappuram | 483 | Vasai-Virar | 250 |
| Dhanbad | 326 | Mangalore | 824 | Vijayawada | 866 |
| Faizabad | 5278 | Meerut | 121 | Visakhapatnam | 891 |
| Faridabad | 129 | Moradabad | 591 | Warangal | 870 |