Free call to UAE
Please wait while we are checking whether your call can be connected.
Many a times people go to foreign lands in search of better jobs and living. Sometimes the entire family moves and sometimes it is an individual member of the family who has to leave his homeland and move to a foreign land for work or job. At present, most of the countries have relaxed their visa requirements and therefore this has resulted in a very interesting situation. A lot of people are currently living thousands of miles away from their homes in different countries and leading a considerably different lifestyle as well.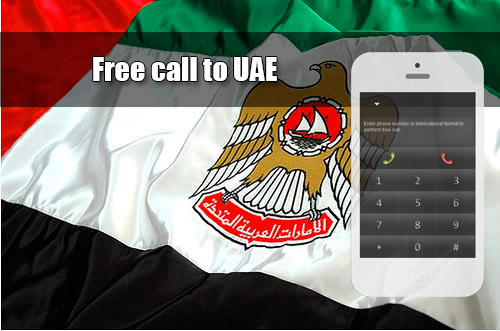 Now the person who lives in a foreign land has to obviously take care of a lot of things. He has to manage everything on his own. But many a times, it can be seen that contacting your parents or families back home can be a bit heavy on the pocket. Sometimes, the exchange rate is on the negative side and it can be really expensive to place a long distance call. And we all know that ISD rates are really steep. So in this case, everyone looks out for a cheaper alternative.
Now people living in United Arab Emirates for the sake of work or job also contact their families or friends. But due to ISD rates, the calling is expensive. This discourages frequent calls to friends and families living abroad. But what if we told you that you can now place free call to UAE. That you can easily call up that friend of yours who's been residing in that country. Well, it's all quite simple with the help of Ievaphone.com.
What is Ievaphone.com?
Ievaphone is a website that lets you call across the globe for free. Yes, it enables you to call people living in different countries for free of cost. If you have the required equipment with you, you can place a free call to UAE as well. The procedure is quite simple and almost everyone can use it without any hazards. The working is also simple and the website design is lucid enough for anyone to understand.
How does ievaphone work?
Basically, this Web based service requires you to use a handful of things so as to make free calls to any country. So first of all you need to have a device that has a microphone in it. Devices like tablets smartphones, laptops and other similar gadgets will easily work. However, we suggest using a pair of headphones for better call clarity. Also, with headpieces you can use desktops as well. Apart from this, your device's browser should be compatible with Adobe Flash player so as to access the website effectively. Now, you simply need a working Internet connection to make free calls.
How to make free call to UAE?
With your compatible device, open the website. When you reach onto the website, you'll see a virtual dialer. You need to select the country (to make free call to UAE you may enter 971 country code) you want to call and then using the virtual dialer, dial in the number. And that's it. You'll be calling for free and making isd calls whilst paying nothing. It's as simple as that.
What is the number of free calls?
Well, as of now the number of free calls you can place depends on the country you're calling from and the country you want to call to. However, a premium version is also on its way which will let you place unlimited calls regardless of the country. So, to save your telephone expenses and to place free ISD calls to your distant relative or friends, use ievaphone and experience the benefits of free calling.
UAE country and area codes
UAE country code - (971)
Our website automatically inserts the country code when selecting the required country from the list.
UAE area codes:
| | | | | | |
| --- | --- | --- | --- | --- | --- |
| Abu Dhabi | 2 | Fujairah | 9 | Ras Al Khaimah | 7 |
| Ajman | 6 | Hatta | 4 | Ruwais | 2 |
| Al Ain | 3 | Lihbab | 4 | Sharjah | 6 |
| Dubai | 4 | Madinat Zayed | 2 | Umm-Al Quwain | 6 |