Free calls to Croatia
Please wait while we are checking whether your call can be connected.
Are you facing problem in making calls to your home town? It is a very common experience with people who have to make frequent international travel. To solve this problem various methods have been developed, one such method is making free calls using apps. These apps are unique in nature and usability. Let us see some of its uniqueness and advantages when you want to make free calls to Croatia.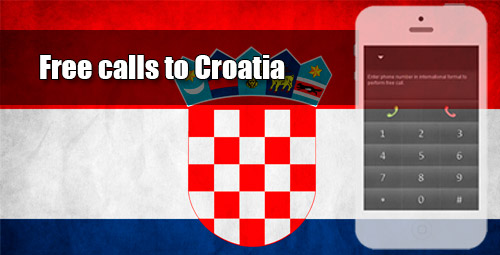 The only thing that is needed if you wish to make a free international call is downloading this app onto your mobile or computer. You are ready to make any international call without paying anything.
After the installation of the app from iEvaphone you are given ten credits which enable you to make free calls instantly. Credits can be further earned. No, do not worry you do not have to pay anything, this is also free. You just have to see some videos or just by completing installing certain applications. Isn't it amazing? You can even configure your caller id for free. That will be shown when you make a call.
This is absolutely free neither you nor your peer has to pay anything. There is no hidden cost applicable. The technology used is VoIP. Previously installation of this type of features used to cost money but now with this unique app it can be done without any charge. This particular app cannot be compared to other apps that claim to enable you to make free calls. This one is really absolutely free. The only restriction is that you can make four calls in a day. You should dial the number in an international format and you are through talking to your homeland.
Now you must be thinking that how to use it. It is really simple. The first thing that you require is a mobile or a PC, which you definitely have. You have to be at the site and download the app. You are now ready to make your call.
While installation or while making calls it will never ask for your credit card number. It allows you a free option to make contact with your loved ones.
iEvaphone gives you this opportunity to make it possible. So, it is just waste of time and money to look for other option. Just download this app and make calls as you wish.
Croatia country and area codes
Croatia country code - (385)
Our website automatically inserts the country code when selecting the required country from the list.
Croatia area codes:
| | | | | | |
| --- | --- | --- | --- | --- | --- |
| Bjelovar | 43 | Pazin | 52 | Solin | 21 |
| Cakovec | 40 | Petrinja | 44 | Split | 21 |
| Dakovo | 31 | Pozega | 34 | Varazdin | 42 |
| Dubrovnik | 20 | Pula | 52 | Velika Gorica | 1 |
| Gospic | 53 | Rijeka | 51 | Vinkovci | 32 |
| Karlovac | 47 | Samobor | 1 | Virovitica | 33 |
| Koprivnica | 48 | Sesvete | 1 | Vukovar | 32 |
| Krapina | 49 | Sibenik | 22 | Zadar | 23 |
| Metkovic | 20 | Sisak | 44 | Zagreb | 1 |
| Osijek | 31 | Slavonski Brod | 35 | Zapresic | 1 |