Free calls to Egypt
Please wait while we are checking whether your call can be connected.
We all know how difficult it is to manage expenses these days. Every single thing is experiencing a price hike these days and with every passing year, even the most basic commodities are getting expensive. No doubt that even the spending capacity of every individual has increased over the time; still, it can be a bit difficult at times. In such a scenario it is extremely important to save as much money as possible. Finding discount deals and purchasing sale products can help you save some valuable bucks for sure.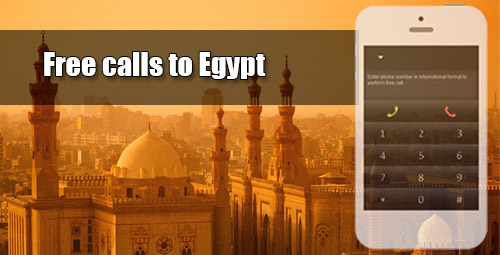 Now imagine if you can also save on your phone bills. Although the telecom operators offer myriads of offers every single day, the rates are still a little heavy on the pocket. With expensive domestic or local call rates, it is obvious that international calling rates are going to really high for everyone. This is a bigger problem when you are travelling internationally. You end up spending money on a daily basis for necessities like shelter and food and then in addition you also end up spending a huge amount of money on telephones. This is where websites like ievaphone.com can help you in different ways.
You just need to visit this website in order to make free international calls and if you are travelling to a different country, this website can help you save a lot of money on international calling as well. For instance, if you are living in a country like Egypt or even travelling to a country like Egypt, you can use ievaphone to make free calls to Egypt. Through this website, you can save some valuable bucks and if you are travelling, you can use that money for something else.
Now, some people might be wondering as to how this is possible?! As in how can any website allow free calls to Egypt or any other country for that matter? Well, to clarify for everyone, ievaphone.com is a website which allows a limited number of free calls to international destinations but however, it allows an unlimited number of cheap calls to international destinations like India, Egypt, United States and many other countries.
The website uses the concept of internet calling to its advantage and helps its user make really cheap international calls. For using this site to make internet calls, you need to have a working internet connection and along with this you also need a smartphone which can access this website. It is also suggested that the user can use headphones for better call quality and if you have a quick internet connection, the call quality is going to be nothing short of excellent.
So, for making free calls to Egypt use ievaphone.com and experience an excellent sound quality whilst saving money on telephone bills as well. This can help you in saving money which can be used for managing other expenses. All in all, the website is also designed in a simple manner which makes it easier for everyone to use and operate.
Egypt country and area codes
Egyp country code - 20
Our website automatically inserts the country code when selecting the required country from the list.
Egyp area codes:
| | | | | | |
| --- | --- | --- | --- | --- | --- |
| 10th of Ramadan | 15 | Damietta | 57 | Mersa Matruh | 46 |
| 6th of October | 2 | El Mahalla el Kubra | 40 | Mit Ghamr | 50 |
| Alexandria | 3 | El Minya | 86 | Port Said | 66 |
| Arish | 68 | Fayoum | 84 | Qena | 96 |
| Aswan | 97 | Giza | 2 | Sharm el-Sheikh | 69 |
| Asyut | 88 | Hurghada | 65 | Shibin el-Kom | 48 |
| Banha | 13 | Ismailia | 64 | Shubra el-Kheima | 2 |
| Belbeis | 55 | Kafr el-Sheikh | 47 | Sohag | 93 |
| Beni Suef | 82 | Luxor | 95 | Suez | 62 |
| Cairo | 2 | Mallawi | 86 | Tanta | 40 |
| Damanhur | 45 | Mansoura | 50 | Zagazig | 55 |