Please wait while we are checking whether your call can be connected.
Free calls to USA
Make FREE Calls To USA on Ievaphone!
Do you make frequent calls to USA? And is worried about the huge bill that follows it? Making calls to USA can be costly, there are huge charges associated with international calls. Most people avoid making international calls to save some money on their mobile bills but in case your friends, family, colleague or even an acquaintance lives there then you are left with no choice but to make calls to keep in touch with them. The frequent calling to US may incur huge charges on your phone bill. However, don`t worry there many ways by which you can reduce your calling bills.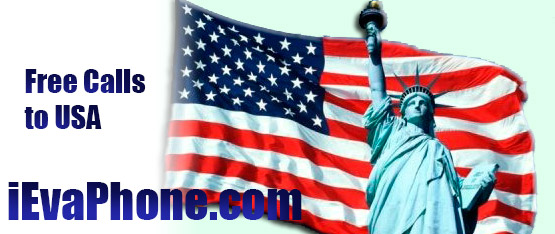 Many service provider offers tariff plans that includes international calling at lower cost, you can avail any of these plans and keep calling. But these plans are not that cheap and many of them come along with hidden charges. Most preferable and low cost method is VoIP or Voice over Internet Protocol. It allows user to make calls using their computer or smartphone. These services allow you to call from your computer to any number across the globe at much cheaper rate, for example cheap calls to USA. Many of these services also offer free calls from computer to computer. To make free calls you need to register and install their application and the other should also have the same application installed on their system. But imagine if you don`t need to download or install anything to make free calls to USA.
iEvaphone is one such service that allows you to make free calls to USA. It doesn`t require you to register with it to make use of its service. The functionality is quite simple, go to their website dial the number with ISD code and enjoy your free call. It will never ask you for your bank account details or credit card information and will never send you tons of spams to clog your inbox. All you need to do is to have a web browser that supports Adobe Flash player (almost all available web browsers supports flash player). You do not need to download any third party app or any plugin which also reduces the chances of getting infected by any mal ware. You can also use iEvaphone on your smartphone. iEvaphone supports all platform that offers web browser that supports adobe flash player.
How to use iEvaphone to make free calls to USA?
Making free calls to USA using iEvaphone is as easy as dialling a number. All you need to do is to go to their site. Allow the flash widget to load. Once the flash widget is loaded, choose the US from the list of available countries to make free call to US. Once you have selected US as your preferred country, enter the number you want to call. Now press the call button to start your free call. Once the call is started you will be presented with a short promotional advertisement from the sponsors. Let the advertisement finish and once the promo has ended, the call will automatically get connected to the desired location. Now all you need to do is to enjoy your free call.
iEvaphone is completely free and reliable service. You can make free calls to USA or any mobile, landline numbers across the globe. It requires a working 3G or broadband connection but a speedy connection is preferred to maintain the quality of the call. The time span of a call is however limited and is regulated by the country you are calling. Further there is a limit of 4 calls per day from iEvaphone. So, if you are looking for a quick international chit chat with your friends then iEvaphone is something just for you.
United States country and area codes
United States country code - (1)
Our website automatically inserts the country code when selecting the required country from the list.
United States area codes:
| | | | |
| --- | --- | --- | --- |
| State | Area code(s) | State | Area Code(s) |
| Alabama | 205, 251, 256, 334, 938 | Montana | 406 |
| Alaska | 907 | North Carolina | 252, 336, 704, 828, 910, 919, 980, 984 |
| Arizona | 480, 520, 602, 623, 928 | North Dakota | 701 |
| Arkansas | 479, 501, 870 | Nebraska | 308, 402, 531 |
| California | 209, 213, 310, 323, 408, 415, 424, 442, 510, 530, 559, 562, 619, 626, 628, 650, 657, 661, 669, 707, 714, 760, 805, 818, 831, 858, 909, 916, 925, 949, 951 | New Hampshire | 603 |
| Colorado | 303, 719, 720, 970 | New Jersey | 201, 551, 609, 732, 848, 856, 862, 908, 973 |
| Connecticut | 203, 475, 860, 959 | New Mexico | 505, 575 |
| Delaware | 302 | Nevada | 702, 725, 775 |
| Florida | 239, 305, 321, 352, 386, 407, 561, 727, 754, 772, 786, 813, 850, 863, 904, 941, 954 | New York | 212, 315, 347, 516, 518, 585, 607, 631, 646, 716, 718, 845, 914, 917, 929 |
| Georgia | 229, 404, 470, 478, 678, 706, 762, 770, 912 | Ohio | 216, 220, 234, 330, 419, 440, 513, 567, 614, 740, 937 |
| Hawaii | 808 | Oklahoma | 405, 539, 580, 918 |
| Idaho | 208 | Oregon | 458, 503, 541, 971 |
| Illinois | 217, 224, 309, 312, 331, 618, 630, 708, 773, 815, 847, 872 | Pennsylvania | 215, 267, 272, 412, 484, 570, 610, 717, 724, 814, 878 |
| Indiana | 219, 260, 317, 574, 765, 812, 930 | Rhode Island | 401 |
| Iowa | 319, 515, 563, 641, 712 | South Carolina | 803, 843, 864 |
| Kansas | 316, 620, 785, 913 | South Dakota | 605 |
| Kentucky | 270, 364, 502, 606, 859 | Tennessee | 423, 615, 629, 731, 865, 901, 931 |
| Louisiana | 225, 318, 337, 504, 985 | Texas | 210, 214, 254, 281, 325, 346, 361, 409, 430, 432, 469, 512, 682, 713, 806, 817, 830, 832, 903, 915, 936, 940, 956, 972, 979 |
| Massachusetts | 339, 351, 413, 508, 617, 774, 781, 857, 978 | Utah | 385, 435, 801 |
| Maryland | 240, 301, 410, 443, 667 | Virginia | 276, 434, 540, 571, 703, 757, 804 |
| Maine | 207 | Vermont | 802 |
| Michigan | 231, 248, 269, 313, 517, 586, 616, 734, 810, 906, 947, 989 | Washington | 206, 253, 360, 425, 509 |
| Minnesota | 218, 320, 507, 612, 651, 763, 952 | Washington D.C. | 202 |
| Missouri | 314, 417, 573, 636, 660, 816 | Wisconsin | 262, 414, 534, 608, 715, 920 |
| Mississippi | 228, 601, 662, 769 | West Virginia | 304 |
| | | Wyoming | 307 |