/
/
Free phone calls to USA
Free phone calls to USA
Please wait while we are checking whether your call can be connected.
Make Free Phone Calls To USA!
Making calls to USA has always been costly and if you make frequent calls then you know the pain of the huge bill that hit your wallet. Most of the people avoid international calls to save some bucks on their bills but if you have your relative, colleague, family or friends living in US then you have to make frequent calls in order to keep in touch. These frequent calls will put lot of pressure on your wallet but you don't have to worry as there are many solutions that can help you in reducing your international calling charges.
Most effective and popular method for making long distance calls is VoIP or Voice over Internet Protocol. VoIP allows users to make cheap or even free international calls using their computer and internet. Several service providers provide calling services that allows you to free phone calls to USA from your PC to another PC or cheap call from your PC to any number across the globe, for example - cheap calls to South Africa.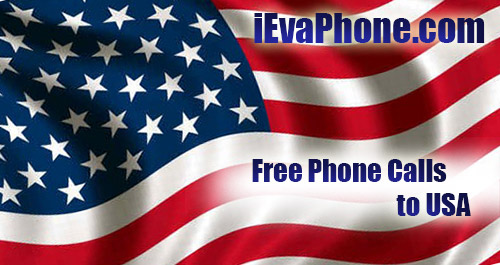 iEvaphone is one such service that allows users to make free international calls. Like any other VoIP service provider it doesn't ask you for your credit card or bank details. It doesn't even ask you to register with them to use their service all you need to do is to visit their website. iEvaphone functions quite uniquely all you need to do is to visit their site enter the desired number in the space provided and make your call.
How to use the service to make free phone calls to USA?
The functionality of iEvaphone is quite simple. Before you proceed please make sure that your web browser is compatible with adobe flash player. Just go to their site and let the flash widget to load. Once the flash widget has loaded, enter the ISD code of the country where you want to call. After you have entered ISD code all you need to do is to enter the phone number to which you are calling and click on the call button to make free phone calls to USA or other countries. You will be directed to a short promotional campaign. Wait for few second and let the promotional video finish. Once it is over you call will be connected.
What are the benefits of using iEvaphone?
iEvaphone is robust and free service that allows you to make free phone calls to USA and other countries. You can make free phone calls by using their online flash widget. There is no need to register or enter your credit card or bank details. The service is totally free and will not even ask for your email. You can call any landline or mobile number across the globe. A fast internet connection is quite important for a good quality call. The service is free however there is a limit of 4 calls per day. The time span of the call is also regulated by the country you are calling. In all iEvaphone offers brilliant service and that too at free of cost. So, if you are looking for a quick chat with your friend in US then this service is just for you.