/
/
Free calls to USA from PC
Free calls to USA from PC
Please wait while we are checking whether your call can be connected.
Mobile phones made the world small and internet made it even smaller. When you wish to talk to your friends or family you can call them right away and if they live far from you then video chatting options is also available on internet. But what if your friends or relatives live in USA and you in other country or continent? Surely you would have tried talking to them over phone but later the bill that follows really puts a hole in your wallet. The traditional calling method is not at all affordable as the call charges these mobile service providers have on international calls is only good for once in a month or two calls, but if you have to call regularly to USA for business purpose, family or friends then you might want to go for free calls to USA from PC service that iEvaPhone provides.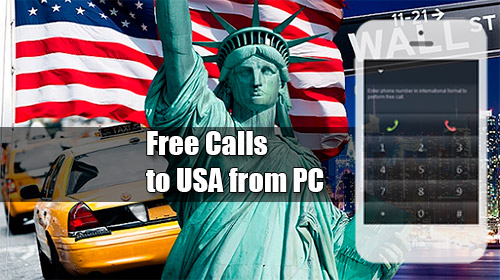 How to use iEvaPhone to make free calls to USA from PC?
Using this free international call service is as easy as dealing number in your mobile phone and making call. All you need to do is to visit iEvaPhone.com website and allow the flash widget on its homepage to load. Once the widget loads you will see a keypad there where you select the country you wish to call to, and then type the mobile or landline number you are calling to. Then when you will hit the call button a small advertisement from their sponsor will come up, but its really short so nothing annoying here and after the promo video completes your call will get automatically connected to the dialled number.
But is there any limitation to this service?
Well yes there are two but very basic limitations to this free call service. In order to avoid the abuse of this free international call service by people this free service can be used for only four free international calls everyday and after every 24 hours your four free calls again gets refreshed.
The other limitation is on the call durations. Since these calls are absolutely free therefore to avoid network congestion every free call has some time limitation. When your call gets connected to your desired number the timer on the screen will show you how much time you have before the call will atomically get disconnected. And duration of calls depends on the country you are calling to.
But considering the fact that you need not to create any account, no need of any registration, no card or bank details sharing, and absolutely free so these limitations are justified.
So what do I need to start making free calls?
Only the most basic requirements are there for using iEvaPhone to make free calls to USA from PC. The requirements are mentioned below:
PC or Mac with Adobe Flash Player 9.0 or above installed on the web browser.
Microphone and speaker for call purpose.
And that`s it!
So as you can see using this service to make free calls to USA from your PC can`t be simpler. Go ahead and make quick calls to USA from anywhere around the world and for absolutely no charges.
USA country code and area codes
USA Country Code - 1
Our website automatically inserts the country code when selecting the required country from the list.
USA Area Codes by state:
| State | Area code(s) | State | Area Code(s) |
| --- | --- | --- | --- |
| Alabama | 205, 251, 256, 334, 938 | Montana | 406 |
| Alaska | 907 | North Carolina | 252, 336, 704, 828, 910, 919, 980, 984 |
| Arizona | 480, 520, 602, 623, 928 | North Dakota | 701 |
| Arkansas | 479, 501, 870 | Nebraska | 308, 402, 531 |
| California | 209, 213, 310, 323, 408, 415, 424, 442, 510, 530, 559, 562, 619, 626, 650, 657, 661, 669, 707, 714, 760, 805, 818, 831, 858, 909, 916, 925, 949, 951 | New Hampshire | 603 |
| Colorado | 303, 719, 720, 970 | New Jersey | 201, 551, 609, 732, 848, 856, 862, 908, 973 |
| Connecticut | 203, 475, 860, 959 | New Mexico | 505, 575 |
| Delaware | 302 | Nevada | 702, 725, 775 |
| Florida | 239, 305, 321, 352, 386, 407, 561, 727, 754, 772, 786, 813, 850, 863, 904, 941, 954 | New York | 212, 315, 347, 516, 518, 585, 607, 631, 646, 716, 718, 845, 914, 917, 929 |
| Georgia | 229, 404, 470, 478, 678, 706, 762, 770, 912 | Ohio | 216, 234, 330, 419, 440, 513, 567, 614, 740, 937 |
| Hawaii | 808 | Oklahoma | 405, 539, 580, 918 |
| Idaho | 208 | Oregon | 458, 503, 541, 971 |
| Illinois | 217, 224, 309, 312, 331, 618, 630, 708, 773, 815, 847, 872 | Pennsylvania | 215, 267, 272, 412, 484, 570, 610, 717, 724, 814, 878 |
| Indiana | 219, 260, 317, 574, 765, 812 | Rhode Island | 401 |
| Iowa | 319, 515, 563, 641, 712 | South Carolina | 803, 843, 864 |
| Kansas | 316, 620, 785, 913 | South Dakota | 605 |
| Kentucky | 270, 364, 502, 606, 859 | Tennessee | 423, 615, 731, 865, 901, 931 |
| Louisiana | 225, 318, 337, 504, 985 | Texas | 210, 214, 254, 281, 325, 346, 361, 409, 430, 432, 469, 512, 682, 713, 806, 817, 830, 832, 903, 915, 936, 940, 956, 972, 979 |
| Massachusetts | 339, 351, 413, 508, 617, 774, 781, 857, 978 | Utah | 385, 435, 801 |
| Maryland | 240, 301, 410, 443, 667 | Virginia | 276, 434, 540, 571, 703, 757, 804 |
| Maine | 207 | Vermont | 802 |
| Michigan | 231, 248, 269, 313, 517, 586, 616, 734, 810, 906, 947, 989 | Washington | 206, 253, 360, 425, 509 |
| Minnesota | 218, 320, 507, 612, 651, 763, 952 | Washington D.C. | 202 |
| Missouri | 314, 417, 573, 636, 660, 816 | Wisconsin | 262, 414, 534, 608, 715, 920 |
| Mississippi | 228, 601, 662, 769 | West Virginia | 304 |
| | | Wyoming | 307 |
For detailed area code list with cities please visit NANPA site