Free calls to Qatar
Please wait while we are checking whether your call can be connected.
Comprising arid desert and long Persian Gulf shorelines of beaches and dunes, Qatar is a well-known peninsular Arab country. Currently, the country is one of the richest countries in the region. The income of the country mainly comes from the large gas reserves present. Earlier, the place was considered as one of the most boring locations present on Earth. However, with time, it is turning out to be one of the most exciting place. Despite being a desert, it also inherits a great range of flora and fauna.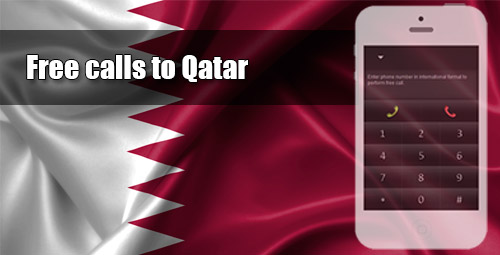 Calling to Qatar is not easy when you live far away from the geographical borders of the country. High rates of the international call is the main concern that avoids the people to avoid several people to make a simple call. It is not easy to afford a call when the person wants to talk more than a minute until their heart stops pouring out. Not all people can do and access the international call at their current rates.
Nevertheless, the solution is present on the internet in the form of iEvaphone. iEvaphone allows the users to make free calls to Qatar without any trouble. The site offers cheap calls to every nation whenever you want and talk for unlimited with ease. No sort of charges are to be paid for using the service unlike other websites. You need the access number and the country code to make free calls to Qatar to talk easily.
Enjoy uninterrupted and unlimited talking with friends as well as with friends when iEvaphone is there. No registration, account or debit card details are to be provided to ensure proper utilization of the service. Do not compromise with your present cellular conditions in making the international calls use iEvaphone for the best communication. The current number of calls available for free is four and the limit is low to avoid abuse as well as any network congestion that might interrupt the service. Save a lot and without any sort of hard effort with iEvaphone's services.
The services are available 24/7 from any part of the world. A good internet connection is needed for using the service along with a browser to access the site. Free calls are not a dream with iEvaphone. Call to any country regardless of the distance and cost by using your internet connection and browser whenever you want to. There is no inferiority in terms of call quality and service despite being and true to its nature.
Functioning more like a normal call, it has all the elements that makes it irresistible to use when the need of the call is high.
Qatar country code
Qatar country code - (974)
Our website automatically inserts the country code when selecting the required country from the list.