Free calls to Norway
Please wait while we are checking whether your call can be connected.
Mostly people go to Norway in order to experience the best of Northern Lights. The country is situated in the western part of Scandinavian Peninsula. It inherits the world-renowned Norwegian fjords, fascinating mountains as well as glaciers. Officially called as the Kingdom of Norway, the country is a sovereign and is scattered in an area of 385,252 square kilometers. The country contains a population of 5,213,985 people and shares their eastern border with Sweden.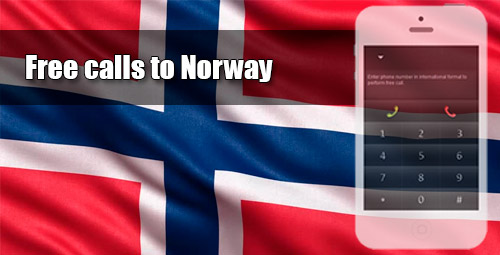 Mostly the people do go to the place to encounter the unbelievable colors that flash across the Arctic sky. For talking to any person living away from their geographical location, we all use international calling services. However, with this benefit there is a negative point in using the international calling service that is the cost incurred for using it. Among the carriers present only a handful number are able to offer them at a low price.
Due to the low price, the compromise is to be made in terms of call quality that degrades. In order to avoid the troubles encountered while calling internationally, you can trust iEvaphone. iEvaphone allows you and every person out there in the world to make free calls to Norway as well as to any other country with ease. The service is a great alternative of the international calls that are priced high and almost unbearable to use.
Our services are far greater in comparison to other carriers offering similar service, due to the reliability and advance technology used by us. You do not have to pay a single penny for the service utilized for making the free calls to Norway. Use our service to contact directly the contact your family and relatives through your smartphone or desktop.
Get a great call quality with iEvaphone when making free calls to Norway. Presently tons of people are using the service of the site for contacting easily whether being in an outside place. The site allows a handful number of free calls to be made in a day. A person can make only four calls to any region in a day. The limit is only for a day and after 24 hours; the person can easily make the calls easily to any part of the world.
For many travelers it is quite beneficial as they are able to avoid the cost incurred while communicating with others. There is absolutely no need to register yourself on the site for the purpose of using the benefits of the site. Just keep handy the number of the person with whom you want to talk to when going to use the site. Use your browser to access the site.
Norway country and area codes
Norway country code - (47)
Our website automatically inserts the country code when selecting the required country from the list.
Norway area codes:
| | | | | | |
| --- | --- | --- | --- | --- | --- |
| Alesund | 7 | Hamar | 62 | Oslo | 2 |
| Arendal | 37 | Harstad | 77 | Porsgrunn-Skien | 35 |
| Bergen | 5 | Haugesund | 5 | Stavanger | 5 |
| Bodo | 7 | Kristiansand | 38 | Tonsberg | 33 |
| Drammen | 3 | Larvik | 33 | Trondheim | 7 |
| Halden | 69 | Moss | 69 | Tromso | 77 |