Free calls to Vietnam
Please wait while we are checking whether your call can be connected.
Vietnam is well-known for its cultural and ecological diversity. And now, Information Technology and high-tech industries are also fast-growing parts of Vietnam. And this means that a large portion of the Vietnamese is now living abroad or on their frequent foreign business trips. And while they are in abroad, these people need to call their hometown to get in touch with their families. As we all know, frequent international calls can cost the earth. Then how can you manage your living in abroad?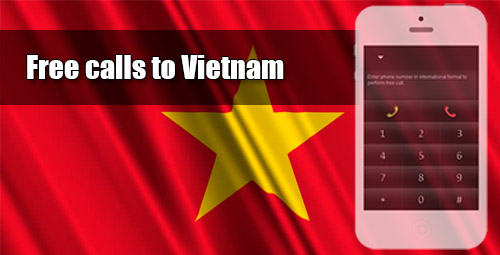 These days of worries are long gone now. For, technology has gifted us VoIP service to make free calls to Vietnam. Voice over Internet Protocol allows a user to make cheap and even free calls just using their PC, Mac, or Smartphone, having an internet connection. A number of this kind of service providers are out there offering such free calls to make. This service allows you to make calls from your PC to any mobile or landline number. Most of the service providers allow you to make free calls around the globe. But you can also recharge your balance with the top-up they provide.
And don't underestimate the sound quality, because of its free. The sound quality will be clear enough to have a great communication.
What are the Things You Need to Use This Free Call Service?
If you want to make free calls to Vietnam, using this free call service, you don't need to install any special hardware or software. You don't need even to register to the site. You will need to have a high-speed internet connection either of Wi-Fi/3G/other broadband services, web browser, and a headset with mic.
How to Make This Free Call to Vietnam?
The process to place a call through this free call service is very simple and free from any complication.
First, go to the official website of the service provider.
You will see the phone widget.
Select the Vietnam from the entire list.
Enter the number you want to call along with the country code.
Press the call button to initiate the call.
A few seconds to wait, and you will be connected with your free call.
Ievaphone is such a service provider allowing making free calls 24/7, anywhere you want. You can make 4 free calls per day. No, it's not like that you can talk hour after hour making free calls. Each free call is bound with time limitation. The time is over; you will be disconnected from your call. There is no need to get registered to the Ievaphone official site. Besides, you don't require any additional plug-in, any credit cards. But you can use their voucher to recharge the balance in the mobile application. You can check your balance anytime you need. If you have an internet connection then you can use the free call service of Ievaphone from anywhere. So, dial a number of any of your relatives in Vietnam, and enjoy the free calls to Vietnam, today!
Vietnam country and area codes
Vietnam country code - (84)
Our website automatically inserts the country code when selecting the required country from the list.
Vietnam area codes:
| | | | | | |
| --- | --- | --- | --- | --- | --- |
| Bac Lieu | 781 | Hanoi | 4 | Rach Gia | 77 |
| Bac Ninh | 241 | Haiphong | 31 | Soc Trang | 79 |
| Bao Loc | 63 | Ho Chi Minh | 8 | Tam Ky | 510 |
| Bien Hoa | 61 | Hue | 54 | Tan An | 72 |
| Buon Ma Thuot | 500 | Hung Yen | 321 | Thai Binh | 36 |
| Ca Mau | 780 | Kon Tum | 60 | Thanh Hoa | 37 |
| Cam Pha | 33 | Lai Chau | 231 | Thai Nguyen | 280 |
| Cam Ranh | 58 | Lao Cai | 20 | Thu Dau Mot | 650 |
| Can Tho | 710 | Long Xuyen | 76 | Thuan An | 650 |
| Cao Bang | 26 | My Tho | 73 | Tra Vinh | 74 |
| Cao Lanh | 67 | Nam Dinh | 350 | Tu Son | 241 |
| Chau Doc | 76 | Nha Trang | 58 | Tuy Hoa | 57 |
| Da Lat | 63 | Ninh Binh | 30 | Uong Bi | 33 |
| Da Nag | 511 | Phan Rang-Thap Cham | 68 | Viet Tri | 210 |
| Dong Ha | 53 | Phan Thiet | 62 | Vinh | 38 |
| Dong Hoi | 52 | Pleiku | 59 | Vinh Long | 70 |
| Ha Long | 33 | Quang Ngai | 55 | Vinh Yen | 211 |
| Hai Duong | 320 | Qui Nhon | 56 | Vung Tau | 64 |