Free calls to Georgia
Please wait while we are checking whether your call can be connected.
Georgia is a country with a wonderful picturesque and an epic beauty of the landscape. Situated in the South Caucasus, the country of Georgia is very mountainous and it is practically divided into two halves which make the country to be astonishingly beautiful. Located just at the crossroads of the Western Asia, the country of Georgia is epic in its beauty and is certainly one of the finest places on the earth to be. However over the years many people have been visiting the country of Georgia in terms of work as well as tourism.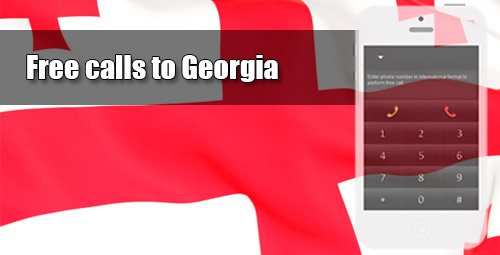 The country of Georgia is located at the Eurasian border and is exactly located to the east of the Black Sea. To the north of Georgia, it is surrounded by Russia followed by Turkey and Armenia in the south. Apart from this, it is also guarded by Azerbaijan in the southeast which makes the country to be extraordinarily beautiful. Though the country is not too big, the presence of the mountains will make it worth to visit. The capital of the country is the largest city Tbilisi where most of the industrial growth is present. Well, if you are planning to be in Georgia, you must be here for the landscapes present.
A person can make free or cheap international calls with the assistance of VoIP. VoIP is an internet protocol that stands for Voice over Internet Protocol, more - What is VoIP. VoIP transfer voice data starting with one system then onto the next. A person can do free international voice chat on Yahoo or can utilize Skype to make free international calls. VoIP services have given facilities of PC to PC and PC to Mobile calling with a feature of free calls to Georgia. A person can also convert landline phone to VoIP phone by taking services of any popular VoIP provider. Watching the developing popularity of VoIP calls, VoIP providers have concocted boundless calling plans.
Although, it has many important features, cost viability is the best one. VoIP allows calling of each sort, for example, local, national or international. Be that as it may, because of the heavy expenses include in long distance calls, VoIP is mainly favored for calling globally, as many operators offer free calls or cheap calls to a portion of the important nations. Other than many other offer free trial facility where one can attempt the free calls to Georgia to make the decision over picking the appropriate plans!
Georgia country and area codes
Georgia country code - (995)
Our website automatically inserts the country code when selecting the required country from the list.
Georgia area codes:
| | | | | | |
| --- | --- | --- | --- | --- | --- |
| Akhalkalaki | 362 | Gulripshi | 448 | Sagarejo | 351 |
| Akhaltsikhe | 365 | Gurjaani | 353 | Samtredia | 411 |
| Akhmeta | 349 | Kaspi | 371 | Senaki | 413 |
| Ambrolauri | 439 | Khashuri | 368 | Sukhumi | 442 |
| Batumi | 422 | Khoni | 495 | Tbilisi | 32 |
| Bolnisi | 358 | Kobuleti | 426 | Telavi | 350 |
| Borjomi | 367 | Kutaisi | 431 | Tkibuli | 497 |
| Chiatura | 479 | Kvareli | 352 | Tkvarcheli | 446 |
| Dedoplis Tskaro | 356 | Marneuli | 357 | Tsalenjikha | 416 |
| Gagra | 443 | Mtskheta | 373 | Tskaltubo | 436 |
| Gali | 447 | Ochamchire | 445 | Tskhinvali | 344 |
| Gardabani | 372 | Ozurgeti | 496 | Vani | 432 |
| Gori | 370 | Poti | 493 | Zestafoni | 492 |
| Gudauta | 444 | Rustavi | 341 | Zugdidi | 415 |