What is VoIP?
VoIP is the short form of "Voice over Internet Protocol". Voice Over Internet Protocol in simple words means using the phone services over the internet. Technically speaking, a group of technologies and methodologies working in harmony with each other, delivering voice communication with the help of internet is called VoIP. VoIP uses internet as the medium of transmission. Using Internet Protocol VoIP services transmit the signals in the form of data packets unlike the complex conventional circuits used in telephone services. Some of the commonly known and used VoIP software's are Ievaphone, Viber, Skype, Google Hangouts, Line, Cool Dialer, Whatsapp etc. These softwares using VoIP services have made the voice communication better and cheaper.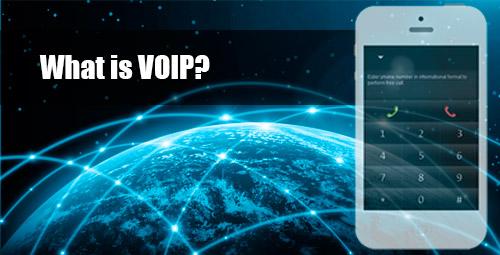 VoIP service can be used successfully and easily used over simple telephonic services. Greatest advantage of using VoIP is that you can make telephone calls over the internet without any extra charge beyond what you internet pack charges.
Why VoIP?
In spite of great number of advantages over conventional telephony, but here are the best reasons to prefer VoIP
Reduced calling expenses:
VoIP services offer the voice communication over phones at much low costs as compared to the traditional phone services. The cost saving in VoIP is the consequence of the technology using a single network to carry voice and data. When the user already has access to the internet, he/she does not need to spend more for calling over internet. The calls are absolutely free either you are calling locally or internationally, however you have to pay for the internet service.
While the traditional phone is bound to some limitations like circuitry or availability of sim card etc. VoIP provides dynamic options of voice communications anywhere with your device (that supports VoIP) provided you have good internet connectivity.
Great deal for Entrepreneurs and companies:
The companies and Entrepreneurs get the major benefit out of VoIP. The work of the call centre agents has not only become cost effective but the multi functioning properties such as Voicemail, Call Waiting, Call Forwarding, a web based control panel, Voicemail received as Email, Advanced Call Forwarding features, etc. has eased and standardized their task to much greater extent

What is VoIP?
Requirements for VoIP
Employing VoIP services is no daunting task, all you need is the internet connection via broadband. The broadband connection works with the ON power supply, proper bandwidth, the router, good network strength and compatible VoIP device. So before you deploying VoIP in your office or house, you must keep the latter points in mind. The basic requirements for voice-over-IP discussed step by step
Bandwidth – Bandwidth of at least 128kbps is needed for voice-over-IP voice connection.
The Router-The router must be chosen carefully because it plays an important role in maintaining the quality of your calls. Routers of low cost are usually poor performers and make you pay in the long run.
Service Quality –Based on your internet usage you must decide if data traffic for voice calls and other internet uses is going to be same or not. If you have much internet usage for other works, it is suggested to keep separate data traffic for VoIP
VoIP Equipment/Device – Nowadays there are number of options available for choosing your VoIP equipment/device. The devices range from headsets to telephone adaptors.
Constant power supply: Last but not the least is the continuous Power Supply. Voice over IP works only in the ON power supply condition and automatically goes off in case of power failure. It is therefore suggested that you must have a battery backup system. A Power-over-Ethernet switch would do a better job only if it fits your budget.