Free calls to Somalia
Please wait while we are checking whether your call can be connected.
At the horn of Africa lies, the country of Somalia bordered by Ethiopia and contains longest coastline on the mainland of Africa. Having a population of 16 million in total, the country encounters hot conditions prevail with monsoon winds and irregular rainfall. A commercial centre of Africa, the country is now under the breakdown due to their ongoing civil war.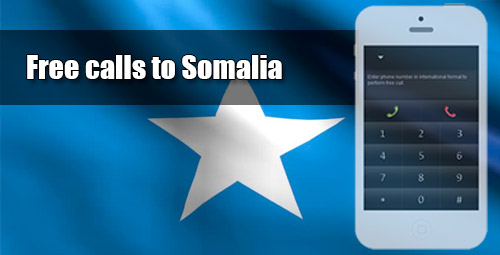 The country is currently encountering the worst violence eruption and making the place to be violent. In Somalia, there are many people living and experiencing the effects of the unstable conditions. It is important for a person related to the country must maintain the connection with the people living in the place. However, making calls abroad is a difficult as the price of each call is quite high. A lot of money from pocket is to be spent in getting the service of internet calls.
Thanks to the advance technology and availability of iEvaphone, many people are able to make free calls to Somalia. It is a great alternative and allows almost everyone to do free calls to Somalia avoiding the cost of the international call rates. iEvaphone offers a service that is entirely different and unique from usual calling experience. For making the free calls to Somalia, it is important to have internet connection aiding in the process to connect easily with others. Just put in the number with the country code and rest of the work will be done by the software present in the site.
There is no need to make a service account and pay any sort of registration fees for making the calls whenever you want. On the site, you can use the service for making almost four calls on a daily basis. Make sure you use the service effectively and the limit does renew after 24 hours. In addition, there is a time limit basically governed by the service provider on the basis of the destination of call made. The call will be disconnected automatically after the limit is reached. Making free calls is easy with the help of the services of iEvaphone to talk limitless.
The competition is tough but the services offered is of top notch and easily accessible without any trouble. You can use it anytime you want without the worry of giving away a huge amount of money.
Somalia country code
Somalia country code - (252)
Our website automatically inserts the country code when selecting the required country from the list.
3 easy steps to make free calls to Somalia
Go to iEvaPhone.Com
Select Yemen from country list and enter phone number
Press Call button